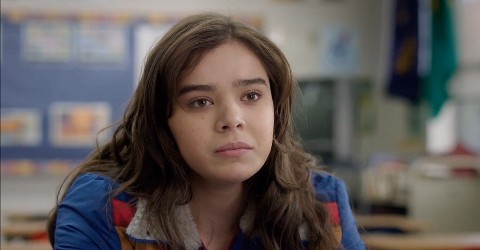 The official trailer for The Edge of Seventeen with Hailee Steinfeld and Woody Harrelson, which filmed in Vancouver and around British Columbia last year, has finally been released. Check out the trailer, along with a roundup of the cast and some of the movie's filming locations below.
The Edge of Seventeen is a John Hughes style drama-comedy that follows Nadine and Krista, two high school girls who are best friends. The friendship takes a dramatic turn for the worse when Krista starts dating Nadine's brother.
The Edge of Seventeen Cast
Nadine is played by teen pop-star/actress Hailee Steinfeld (Pitch Perfect 2, True Grit) and Krista is played by Haley Lu Richardson (Recovery Road, Ravenswood). The brother who gets in between their friendship is played by Blake Jenner (Glee, Supergirl). The movie also stars Woody Harrleson (Cheers, The Hunger Games) and Kyra Sedgwick (Brooklyn Nine-Nine, The Closer).
The Edge of Seventeen Filming Locations
Guildford Park Secondary School (Surrey)
Private residence in the 4000 Block of Dundas Street (Burnaby)
Private residence at Connaught Street and West 37th Avenue (Vancouver)
Steveston Village (Richmond)
A&W 15988 Fraser Highway (Surrey)
Crestwood Corporate Centre (Richmond)
Playland (Vancouver)
Duffin's Donuts (Vancouver)
Vanier Park (Vancouver)
Inlet Theatre (Port Moody)
The Edge of Seventeen Official Trailer
Here's a second trailer that was released on October 5th:

In addition to writing the script, Kelly Fremon Craig also made her directorial debut under the guidance of seasoned producer James L. Brooks. Kelly is best known for writing the 2009 movie Post Grad and James L. Brooks has been behind many projects including The Simpsons TV series/movie and As Good as It Gets.
See also:
Besties Starts Filming in Vancouver
According to Deadline.com The Edge of Seventeen will be shown at this year's Toronto International Film Festival (TIFF) and then released on November 18th, 2016.