Below we'll highlight some of the Deadpool 2 filming locations and share the trailer that was released earlier this week.
After filming the original in the Vancouver area back in 2015, Marvel's over-the-top antihero franchise starring Ryan Reynolds returned to the area for the Deadpool 2 from June 26th to October 13th, 2017 and it premieres on May 18th, 2018. The strange and cryptic official synopsis shared by Fox reads as follows: "After surviving a near-fatal bovine attack, a disfigured cafeteria chef (Wade Wilson) struggles to fulfill his dream of becoming Mayberry's hottest bartender while also learning to cope with his lost sense of taste. Searching to regain his spice for life, as well as a flux capacitor, Wade must battle ninjas, the yakuza, and a pack of sexually aggressive canines, as he journeys around the world to discover the importance of family, friendship, and flavor – finding a new taste for adventure and earning the coveted coffee mug title of World's Best Lover."
In addition to the other returning cast, Deadpool 2 introduces the Nathan Summers/Cable character from the comics, portrayed by Josh Brolin (No Country For Old Men). The latest trailer below focuses heavily on Cable, but doesn't miss out on the opportunity to include some bizarre content from the merc with a mouth himself.
Deadpool 2 Filming Locations: Where Was Deadpool 2 Filmed?
Deadpool 2 took over downtown Vancouver for several months, including shutting down street blocks for days at a time, during filming in 2017. The production was pretty eventful, which we won't get into in this post, but if you want some more details you can check out this article. Here are some of the Deadpool 2 filming locations spotted during production.
Vancouver
Stanley Park
Lions Gate Bridge
Granville Street and Beach Avenue, Under the North side of the Granville Bridge
Granville Street Bridge
Howe Street and West Hastings Street
Hornby Street and Dunsmuir Street
Boundary Road and Triumph Street (border of North Burnaby)
300 Block Cambie Street
325 Cambie Street Alley
314 West Cordova Street Rooftop
540 Thurlow Street Rooftop
800-1100 Block West Hastings Street
800-1100 Block West Georgia Street
999 West Hastings Street
1090 West Pender Street Rooftop
1000 West Cordova Street
Canada Place near Thurlow Street
Richards Street and West Georgia Street
Army & Navy on West Cordova Street
Everywhere else
Docks at 116A Avenue and 130th Street (Surrey)
Riverview Hospital (Coquitlam)
Hatley Castle (Colwood, Victoria)
Deadpool 2 Official Trailer
Although a lot of the new Deadpool 2 filming locations in the trailer are non-descript, you can clearly see downtown Vancouver's Burrard and West Hastings intersection featured. The DMC train, which Vancouver residents know all too well at this point, is seen charging through the intersection and colliding with another vehicle as Josh Brolin's Cable springs overtop.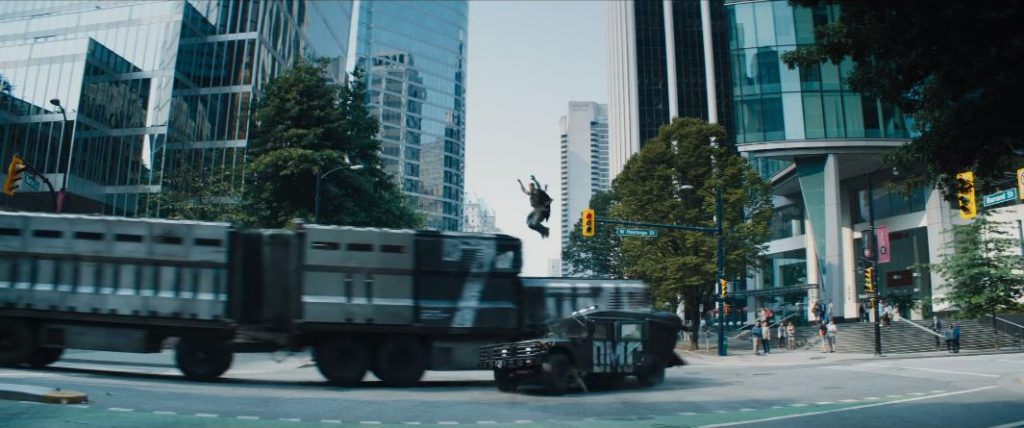 You can also see a glimpse of the scene that was filmed under the North end of the Granville Bridge with Julian Dennison flipping the finger.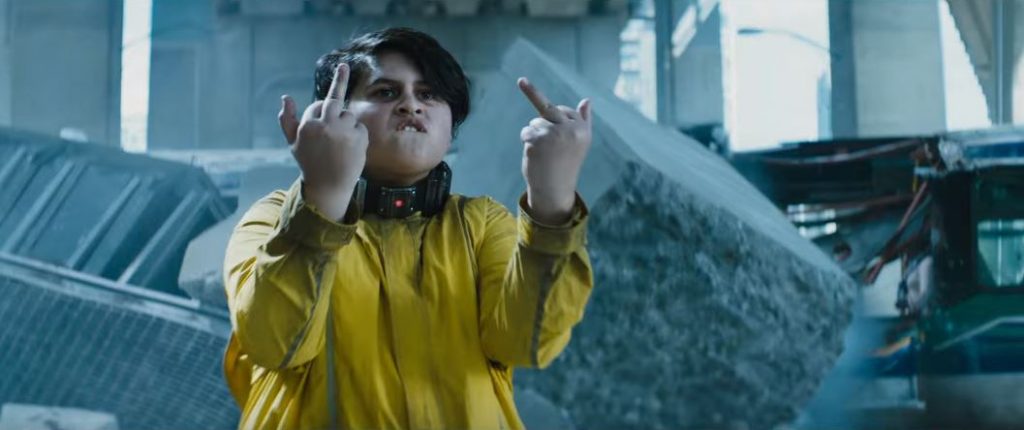 The intersection of West Georgia and Thurlow Streets makes an appearance as Deadpool himself mounts the hood of one of the DMC vehicles.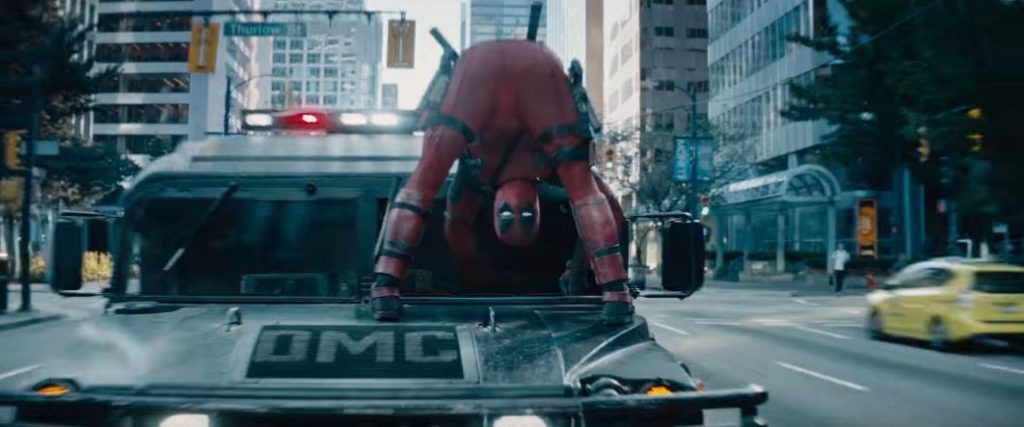 Franchise newcomer Zazie Beetz makes a couple of appearances as Domino at Coquitlam's defunct mental institution turned filming hotspot, Riverview Hospital, including this one out front.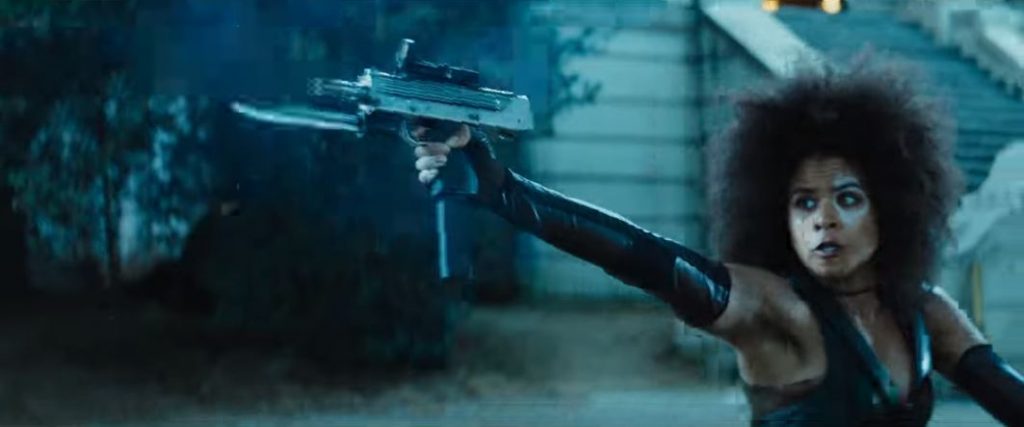 Deadpool clobbering someone outside of Riverview Hospital as well.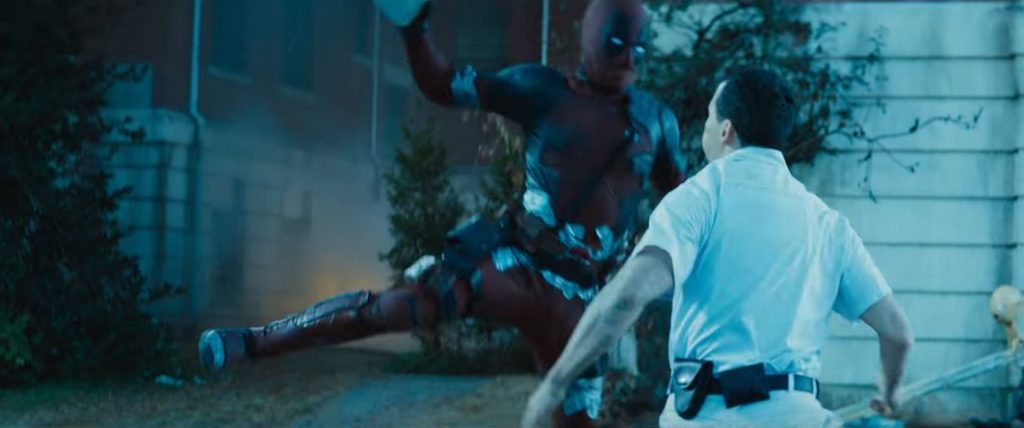 The production spent a significant amount of time there, so expect to see a lot more of it when Deadpool 2 hits theatres on May 18th.
Another new trailer was released on March 22nd:

To read more about Deadpool 2 and see some of the behind the scenes photos shared by the cast, check out our article here.
Let us know in the comments if you spot any other Deadpool 2 filming locations that we missed!