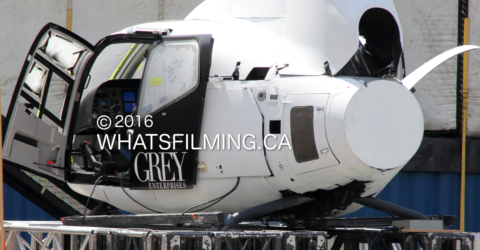 Fifty Shades is getting ready for filming of some scenes with the infamous Christian Grey helicopter Charlie Tango in the coming days. Check out a few behind the scenes photos of the helicopter set below.
The Christian Grey helicopter scenes that are being prepped are using a prop helicopter attached to a hydraulic platform that will allow simulated movement as required. The set is almost completely surrounded by giant inflatable green screens (known as Air Wall). Fun fact: the Air Wall was designed by British Columbia's own David McIntosh, Steve Marshall Smith, Mike Branham and Mike Kirilenko from Aircover Inflatables. The group took home a Scientific and Technical Achievement Award from the Academy Awards earlier this year for the Air Wall which has become a staple in the industry.
Since I'm not familiar with the Fifty Shades books, I'd love to hear what scene(s) you think will be filmed with the Christian Grey helicopter for Darker or Freed. Feel free to let me know in the comment section below.
Photos of the Christian Grey Helicopter Set
Since these pictures were taken, a much safer staircase and platform was built on either side of the helicopter to allow for easier access for the cast and crew.
The Fifty Shades crew was also doing prep work at the nearby former Nokia Building (9200 Glenlyon Parkway, Burnaby) where they filmed on March 10th. The building is a very popular filming location with productions such as The Flash, iZombie, Arrow, and Girlfriend's Guide to Divorce all having filmed there recently. If you want a look at what the building looks like from the inside, check out episode 1×18 of The Flash, 1×10 of iZombie or nearly any episode from season 1 of Girlfriend's Guide to Divorce.
Much like last time Fifty Shades was at the former Nokia Building, there was nothing much to see from the outside of the building but nonetheless here's what it looks like:

See also:
Fifty Shades Darker Filming in Vancouver Starts This Week
We'll be continuing to track Fifty Shades Darker/Freed filming locations on our Filming Locations page. You can view a list of locations they've used so far on our Filming Locations Archive page. Check back often for updates.
Fifty Shades Darker and Freed are scheduled to continue filming in Vancouver and British Columbia until July 6th. If you spot them filming the Christian Grey helicopter scenes or anywhere else, let us know by tweeting us (@WhatsFilming) or via our Submit a Location page.