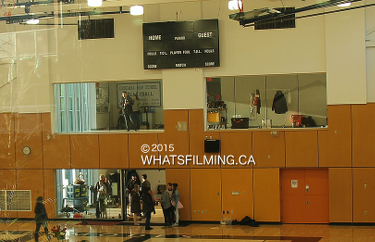 The film adaptation of Lauren Oliver's New York Times best-selling book 'Before I Fall' started filming in British Columbia on November 16th and was on location this weekend at Quest University in Squamish, just over 1 hour north of Vancouver. Photos of the location below.
Before I Fall is a story about a 17 year old high school senior named Samantha Kingston who is played by Zoey Dutch in the film. Samantha lives the perfect teenager life until one February day, she dies in a car crash and spends the next week reliving her last day, trying to make it right and uncover the truth about her own death. The book was the debut novel written by author Lauren Oliver and it was a quick success – it was picked up by Fox to be turned into a film only months after being released in 2010.
To give you a better idea of what Before I Fall is all about here's a short trailer that was put together to promote the book:

Early in the filming process, production spent some time a private residence in North Vancouver. They also filmed at Minaty Bay near Britannia Beach before moving further up the Sea to Sky Highway to Quest University in Squamish. Earlier today they filmed scenes at the main academic building and cafeteria area before moving to the Recreation Centre to film inside the basketball gym.
Here's some photos of the Before I Fall filming location in Squamish.

The film has a pretty great cast of up and coming young stars as well some more established actors. Here's a roundup of the cast released so far as outlined on the Before I Fall IMDB page.
| Actor | Role | You may know them from |
| --- | --- | --- |
| Zoey Dutch | Samantha Kingston | Vampire Academy |
| Elena Kampouris | Juliet Sykes | American Odyssey |
| Halston Sage | Lindsay | Neighbors, Paper Towns |
| Logan Miller | Kent | Scouts Guide to the Zombie Apocalypse |
| Kian Lawley | Rob | Chosen, Our2ndLife (YouTube) |
| Cynthy Wu | Ally Harris | Twisted |
| Medalion Rahimi | Elody | Jane the Virgin |
| Liv Hewson | Anna Cartullo | Do You Mind? |
| Jennifer Beals | Not available | The L Word, Proof |
| Diego Boneta | Not available | Scream Queens, Pretty Little Liars |
Before I Fall filming will continue until December 19th and is expected to be released in 2016. They are using production signs that say 'BIF' on them. If you see Before I Fall filming or spot one of the stars be sure to let us know via Twitter (@WhatsFilming), leave a comment below or submit through our Contact Us page.