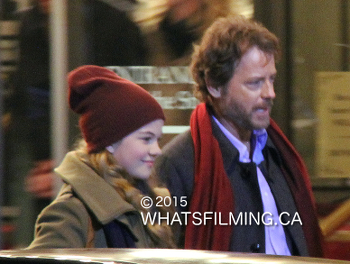 Oscar-nominated actor Greg Kinnear filmed scenes for his directorial debut movie Phil last night at Vancouver's Orpheum Theatre.
In addition to directing the film, Greg Kinnear (Little Miss Sunshine, As Good As It Gets) also plays the lead role – a suicidal dentist named Phil. After one of Phil's patients commits suicide, he takes matters into his own hands. Pretending to be a plumber, Phil gets himself inside the patient's home to try to figure out why he would want to commit suicide. Phil gets close with the family and all is well until he finds himself falling for the widow.
Last night's scene took place outside the Seymour Street entrance to the Orpheum Theatre in downtown Vancouver. Surrounded by dozens of extras, a scruffy Kinnear exited the theatre alongside Vancouver's own Megan Charpentier who appears to be playing the role of a daughter character. Greg and Megan conversed as they walked along Seymour Street, stopping to pet a dog along the way.
Megan started acting when she was only 3 years old and despite being young, already has a very impressive resume. You may recognize her from her lead role in 'Grumpy Cat's Worst Christmas Ever' as well as 2 of the 'Signed, Sealed, Delivered' movies. She has also appeared an episode of crime drama 'Motive' and CW's 'Supernatural'. You can also see her alongside Octavia Spencer and Sam Worthington in the upcoming feature film called 'The Shack' which filmed early this summer here in BC.
There were a couple of posters for the classic Broadway musical posted on the set, so my guess would be that this was what they watched. The entrance awning was also decorated with some Christmas lights suggesting the time of year the film takes place.
Photos of Greg Kinnear and Megan Charpentier from the set of the movie Phil last night in Vancouver
It was interesting to see Kinnear step out of character and into his directing shoes in between takes as he worked alongside Assistant Director David Markowitz. Seeing him in action you'd never know this is his first time directing a movie.
Also featured in the film but not spotted on set tonight is Newroom's Emily Mortimer. Also expected (but not confirmed yet) is Taylor Schilling who plays Piper on a small unheard of show called Orange is the New Black.
Update: As expected, Taylor Schilling is indeed in town for a role in Phil. I wonder how, if at all, this will affect her role in the hit TV series.
See also:
The movie Phil is being backed by Burnaby, BC based company Bron Studios and will be filming in Vancouver and area until December 18th. If you spot a set for the movie Phil or see their production signs (BRON) be sure to let us know via our Contact Us page or tweet us @WhatsFilming.