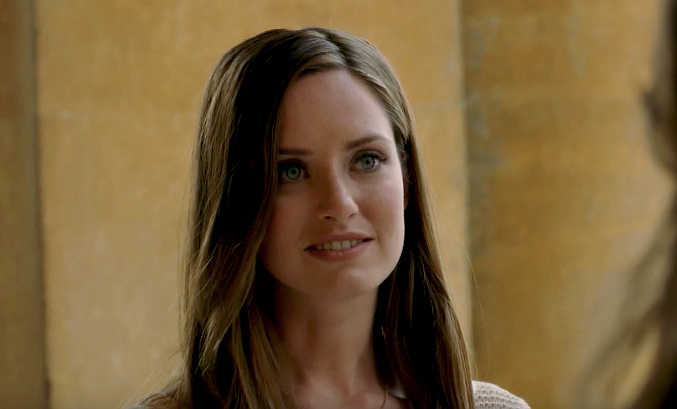 The Christmas Cottage (TV Movie)
The Christmas Cottage is about a young and single interior designer named Lacey Quinn who has already seen her fair share of heartbreak. Like many, she buries herself in work in order to avoid love altogether. That doesn't stop her from taking on the responsibility of becoming the maid of honour for her best friend Ava Callahan's wedding. One of Lacey's main duties as maid of honour is getting Ava's family cottage ready for the newlywed's honeymoon.
As fate would have it, Lacey winds up getting snowed in at the cottage alongside Ava's brother, Charlie. Although she doesn't buy into it at first, Ava starts to realize there may be some truth to the legend that everlasting love will ensue following a couple's first night spent at the cottage.
The Christmas Cottage stars Whistler-born and raised actress Merritt Patterson, presumably as Lacey. Merritt is known for her role as Ophelia on the E! TV series The Royals. Hallmark fans will also recognize Merritt as Maggie from A Royal Winter, which premiered this past January. Merritt is joined by Steve Lund, Brittney Wilson, Victor Zinck, Carey Feehan, P. Lynn Johnson, Laurie Paton, Wendy Abbott, Mark Brandon and Natalie Gibson.
The Christmas Cottage will continue filming in British Columbia until October 30th and will premiere December 10th at 9pm as part of Countdown to Christmas on the Hallmark Channel in the US.
Past Malice: An Emma Fielding Mystery (TV Movie)
Past Malice is the follow-up to Site Unseen, the first installment in the Emma Fielding Mystery series from the Hallmark Movies & Mysteries Channel. The movies are based on a series of novels of the same name written by Dana Cameron, and star Courtney Thorne-Smith (Life with Jim, Melrose Place) as the titular character, an archeologist named Emma Fielding. Site Unseen filmed in the Victoria area from this past April and premiered June 4th to a total of 1.2 million viewers.
In Past Malice, Emma Fielding and her crew are invited to a dig at an eighteenth-century house in the mysterious small coastal town of Stone Harbor, Massachusetts. As the crew gets to work, they discover dead bodies buried within the property. It turns out, someone would have preferred if the bodies were never found. Emma makes it her mission to uncover the truth behind the murders, but her own life may be in danger along the way as that someone looks to keep the past buried.
Past Malice: An Emma Fielding Mystery will continue filming in Victoria and area until October 30th.
Also Starting This Week
Heaven (TV Movie)
Filming until October 27th
For a full list of what's filming in Vancouver and British Columbia right now, check out our In Production page.
Wrapping Up This Week
Elsewhere (Feature) with Aden Young, Parker Posey, Ken Jeong, Beau Bridges, Jacki Weaver and Jackie Tohn wrapped up October 11th
Deadpool 2 (aka Caribbean Blue, Love Machine) (Feature) with Ryan Reynolds, Morena Baccarin, Brianna Hildebrand, Zazie Beetz, Josh Brolin, Leslie Uggams, Jack Kesy, Shioli Kutsuna, Karan Soni, Stefan Kapicic and Julian Dennison wraps up today
A Joyous Christmas (aka Christmas For Joy) (TV Movie) with Natalie Knepp, Bonnie Bedelia, Steve Bacic, Michael Rady and Rachel Annette Helson wraps up October 14th
Muse (TV Movie) wraps up October 15th
If you see any of these productions, including The Christmas Cottage or Past Malice: An Emma Fielding Mystery filming in British Columbia, be sure to let us know by tweeting us (@WhatsFilming) or via our Submit a Location page.