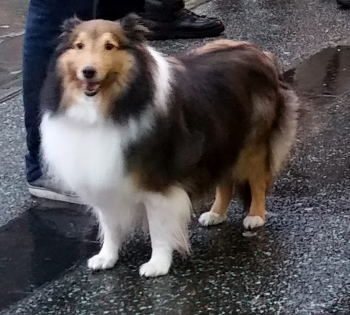 Last night, Pupstar movie rolled out the red carpet on the sidewalk in front of popular filming spot the Orpheum Theatre on Granville Street… but not for celebrities of the traditional type. After starting the day by filming interiors in the historic theatre, several beautiful canine celebrities lined the sidewalk out front. Several taxis were also brought in to add to the New York/Broadway look of the scene. A couple of photos after the jump.
The movie began filming in late September and spent much of their time filming around the Victoria area. A scene out front of the Royal Theatre captured early in the filming was similar to last night's setup at the Orpheum – red carpet and all. The Pupstar movie also visited Victoria's wannawafel which as closed for 4 days to allow for filming.
Here's a couple of photos I snapped while passing by the set armed with only my smartphone.

It's always great to see our local talent being cast for roles filming in the area. The Pupstar movie features two Vancouver Theatresports League actresses: Denise Jones and Christina Sicoli. You may remember Christina from other local productions including Supernatural and Psych. Having recently seen Denise perform at Threatresports, I'm excited to see how her role shapes up in this one.
Although production for the Pupstar movie was officially scheduled to be completed on October 30th, it's expected to be wrapping up in the next couple of days.