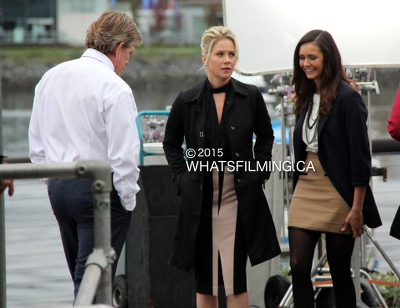 We're excited to bring you the first set photos of Nina Dobrev (Vampire Diaries), Christina Applegate (Anchorman), Thomas Haden Church (Spiderman 3) and Domhnall Gleeson (Star Wars: The Force Awakens) filming their new movie Crash Pad. Photos after the jump.
After spending some time in the downtown core over the last few days, Crash Pad moved to Vancouver's Olympic Village.
RELATED: Crash Pad Movie Filming Locations, Trailer and Premiere
Mild Spoilers Ahead – Beware!
The scene started with Nina Dobrev and Domhnall Gleeson conversing near the village's Canoe Bridge along the shore of False Creek. Things heated up when Domhnall kissed Nina on the lips (photo below).
Following the kiss, Christina and Thomas walked over to join Domhnall and conversation continued.
Here are some photos from the set of Crash Pad today.

Photos appear courtesy of Melissa Kathleen (
@MelissaKathleen
)
Update: Check out the filming locations, trailer and release dates for Crash Pad HERE.
Crash Pad filming in Vancouver will continue until November 18th and is expected to be released in 2016 2017. Crash Pad is using production signs with SLF on them. If you spot it filming or see one of the stars out in the wild be sure to let us know via Twitter (@WhatsFilming), leave a comment below or submit through our Contact Us page.