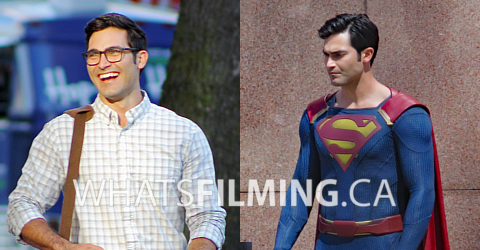 Yesterday was an exciting day for comic book fans in Vancouver. Supergirl took over Homer and West Georgia Streets to film the first public scenes with Tyler Hoechlin as Clark Kent & Superman. Check out some behind the scenes photos below.
Spoiler Warning! As with all set photos, there's always a possibility that a picture or something we say could be considered a spoiler.
After leaving LA, where it filmed its first season, Supergirl started filming season 2 episode 1 titled "The Adventures of Supergirl" in Vancouver earlier this week. After a couple of days filming in their Langley-based studio, they filmed what was described as a bank robbery scene in in the nearby neighbourhood of Walnut Grove (as reported by @HardlyHedda).
On Friday, they moved to downtown Vancouver to film scenes in and around the former Canada Post facility. Inside the building has been transformed into a studio and used by productions such as The Romeo Section due to a lack of traditional studio space. Outside of the building, along Homer & West Georgia Streets, was turned into National City where several scenes were filmed throughout the day. The street was lined with National City branded barricades, as well as National City police cars and fire trucks.
The exterior scenes being filmed yesterday featured Teen Wolf star Tyler Hoechlin as Clark Kent and his first ever public appearance in the Superman suit. Mehcad Brooks, who plays James Olsen, was on set later in the day to film scenes alongside Tyler Hoechlin as Clark Kent. The two had some serious bromance-style chemistry on set. It seemed like a natural fit for both actors who were portraying an on-screen friendship that had been hinted at many times throughout the show's first season. The pair filmed a few different walk-and-talk dialogue scenes with coffee cups from Noonan's Restaurant.
Photos of Tyler Hoechlin as Clark Kent Filming Supergirl Season 2
A HUGE thank you to @Canadagraphs who was kind enough to share these great photos with us of Tyler Hoechlin in the Superman suit.

Check out the Canadagraphs website for more pictures of Tyler Hoechlin, Mehcad Brooks and an exclusive photo of Melissa Benoist in her Supergirl suit taken yesterday as well.
You should also check out Daily Hive Vancouver who released the first look of Tyler Hoechlin as Superman yesterday with photos from @pursuit23. More great photos can be found at Just Jared with photos from @pursuit23 and @PUNKD_Images
See also:
Supergirl Season 2 is currently scheduled to continue filming in Vancouver and British Columbia until April 26th and it will premiere on Monday, October 10th at 8pm on The CW in the US and Showcase in Canada. If you spot Supergirl or Tyler Hoechlin as Clark Kent / Superman, be sure to let us know by tweeting us (@WhatsFilming) or via our Submit a Location page.