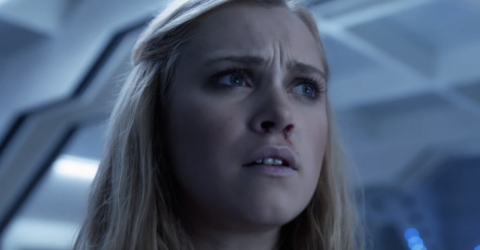 This week, The 100 Season 4, Live Like Line with Helen Hunt and Okja with Jake Gyllenhaal start filming in Vancouver and British Columbia.
The 100 Season 4 (TV Series)
After a dramatic and controversial 3rd season, CW's hit series The 100 Season 4 starts filming in Vancouver and British Columbia today. With the City of Light now behind them, show will be charting down a different path for the upcoming season. During the panel at SDCC, showrunner Jason Rothenberg and cast revealed a few details about what to expect in The 100 season 4.
The unstoppable force, radiation and the the Earth itself, will be at the centre of the storyline for the season. Not everyone will be able to survive, so the question will become "who gets to choose who lives".
We can expect to see a lot more of the Ice Nation King Roan this season after Zach McGowan was recently promoted to a series regular on the show. We'll also be introduced to one of the Nightblood scouts this season. And despite the departure of Lexa during season 3, the flame will play an important role this season.
Although Clarke is still dealing with her emotional state post-Lexa, she is finally gaining some well deserved respect from her adult peers, including Abby and Kane. Although there is no Chancellor or Commander, it won't take long to see the direction each side will be taking.
See also:
The 100 season 4 will continue filming in Vancouver and British Columbia until January 16th and will premiere as part of The CW's midseason lineup.
Live Like Line (Feature)
After the tragic death of their team's star player and captain, Caroline aka 'Line' Found, a high school girl's volleyball team continues their battle for the state championship in her honour. The movie stars Helen Hunt (Mad About You) as the team's tough-love coach, Danika Yarosh (Heroes Reborn) as Caroline Found and Erin Moriarty (Jessica Jones) as Kelly.
They'll be joined by local actors Natalie Sharp (Supernatural) who plays Mack, Tiera Skovbye (The Unauthorized Saved by the Bell Story) who plays Brie and up and comer Lillian Doucet-Roche who plays Taylor.
Live Like Line will be filming in Vancouver and British Columbia until September 13th. Check out our previous article about Live Like Line for more details.
Also Starting This Week
Okja (Feature)
Cast: Jake Gyllenhaal, Lily Collins, Tilda Swinton, Paul Dano, Devon Bostick, Shirley Henderson, Steven Yeun, Daniel Henshall
Filming until August 26th
Check out our full article on Okja here.
Jon Benet (TV Movie)
Filming until August 24th
For a full list of what's filming in Vancouver and British Columbia right now, check out our In Production page.
Wrapping Up This Week
The Mistletoe Promise (TV Movie) with Jaime King wrapped up yesterday
The Ninth Passenger (Feature) with Jesse Metcalf, Alexia Fast, Tom Maden, Sabina Gadecki, Veronica Dunne, David Hennessey, Corey Large and Cinta Laura Kiehl wraps up August 3rd
Dead of Summer – Season 1 (TV Series) with Elizabeth Mitchell, Elizabeth Lail, Zelda Williams, Mark Indelicato, Alberto Frezza, Eli Goree, Ronen Rubenstein, Paulina Singer, Jenna Berman, Zachary Gordon and Charles Mesure wraps up August 3rd
Untitled Siege Picture (Home Video) with Michael Jai White, Sam Jaeger, Adrianne Palicki, Monique Ganderton, Mike Dopud, Pascale Hutton and Ty Olsson wraps up August 5th
If you see any of these productions, including The 100 season 4 filming in Vancouver and British Columbia, be sure to let us know by tweeting us (@WhatsFilming) or via our Submit a Location page.