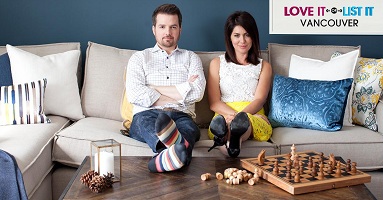 Big Coat Productions has announced that a 4th season of hit TV series 'Love It or List It Vancouver' with designer/former Bachelorette Jillian Harris and real estate expert Todd Talbot has been ordered by the W Network. Season 4 will have 26 all-new episodes that will showcase Vancouver homeowners as they struggle with homes that no longer suit their needs. The plan is for Season 4 to premiere in the fall.
Excerpt from the official press release:
"We're thrilled that W Network has ordered Season 4 and are looking forward to sharing more family stories, set against the spectacular backdrop and unique architecture of Vancouver," says Executive Producer, Maria Armstrong.
"Year three of Love It or List It Vancouver was an extraordinary achievement and we can't wait to see where the fourth season of the show will take us. As this series continues to explode in popularity, it also highlights the strength of the Love It or List It franchise, a hit Canadian TV program shown worldwide across 110 territories, with signed format deals in the UK, France, Belgium and Australia," adds Co-Executive Producer, Catherine Fogarty.
"With three series on air and Love It or List It Vacation Homes in production, the Love It or List It franchise is a powerhouse for W Network. Jillian and Todd are beloved W talent, and we look forward to working with Big Coat on this new season," said Maria Farano, Director, Original Programming, Women & Family Television, Corus Entertainment.
Love It or List It Vancouver is produced by Big Coat Productions in association with W Network.
About Big Coat Productions:
Big Coat Productions is a Gemini Award-winning, independent television production company headquartered in Toronto with offices in Vancouver and North Carolina. Established in 2000 by executive producing partners, Catherine Fogarty and Maria Armstrong, Big Coat Productions earned global industry recognition for its original programming successes, including the long-running series Love It or List It. Specializing in unscripted entertainment-based programming and documentaries, Big Coat Productions has built its solid reputation on delivering innovative, enduring, and engaging productions of the highest quality.
About W Network:
W Network is the leading destination for Canadian women delivering a range of compelling entertainment options from original programming to lifestyle series, blockbuster movies and popular dramas. W Network's online offerings include WNetwork.com, W Dish and W View. With its extensive research capabilities and consumer insights, W Network is recognized as a leading expert in marketing to women. W Network is owned by Canadian-based media and entertainment company Corus Entertainment. For more information, visit WNetwork.com and corusent.com.