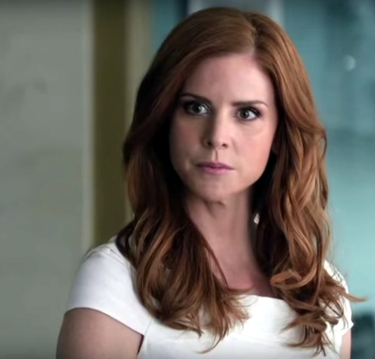 Only a few days after hit TV series 'Suits' wrapped production on its 5th season in Toronto, Sarah Rafferty (who plays Donna in the show) made her way to Vancouver.
Sarah is in town for her role in the upcoming Hallmark original movie called 'All Things Valentine'. The movie started filming on November 30th and has spent time in a private residence in the Murrayville neighbourhood of Langley.
All Things Valentine is a modern love story about a blogger who, after years of bad experiences on Valentine's Day is ready to give up on love altogether. That is until she meets a handsome veterinarian and starts to fall for him. Ironically, she later finds out that her blog is responsible for ending his last relationship and since then he's been leaving angry comments. This leaves her wondering if the relationship will be her true love story or is it nothing more than yesterday's news.
Here's a roundup of the cast of All Things Valentine that we know of so far:
The movie is set to premiere just in time for Valentine's Day – January 31, 2016 on the Hallmark Channel. It will be filming in the area until December 18th.
See Also:
Dater's Handbook, All Things Valentine Premiere Dates and Trailers
Movies and TV Shows Currently Filming in Vancouver
Filming in Vancouver This Week (November 30, 2015)
If you see All Things Valentine filming or spot Sarah Rafferty or another one of the stars be sure to let us know via Twitter (@WhatsFilming), leave a comment below or submit through our Contact Us page.