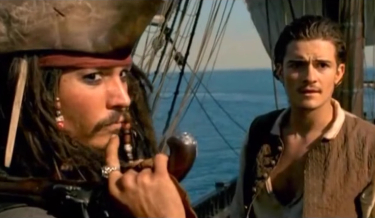 Disney's hugely popular movie series Pirates of the Caribbean filming in Vancouver this spring for the upcoming Dead Men Tell No Tales.
Production of the fifth instalment in the Pirates of the Caribbean movie series began about a year ago in Australia. The production had many setbacks throughout filming including an injury to Johnny Depp which reportedly put the project around $70 million over budget. And now they'll be adding two weeks of additional filming to that total as well.
Pirates of the Caribbean filming in Vancouver is scheduled to start on March 24th until April 13th. The majority of the filming is expected to take place in studio. Their signs "EUCLID" have been spotted near North Shore Studios.
There hasn't been any official reports of which cast members we can expect to see in town during the filming. However, as pointed out by @lemon_buzz on Twitter, Kaya Scodelario will already be in Vancouver during that timeframe for her role in the upcoming Maze Runner movie follow up. Kaya's schedule could be the reason why the production chose Vancouver for the additional scenes.
Update: According to Deadline, Sir Paul McCartney has been added to the cast of Pirates 5 which explains the need for the additional filming.
In case you've been living under a rock for the past decade, the Pirates of the Caribbean franchise also features Johnny Depp (as Captain Jack Sparrow) and Orlando Bloom (as Will Turner). I'm sure no one would complain if those 2 also made an appearance in Hollywood North during those 2 weeks.
See also:
Movies and TV Shows Currently Filming in Vancouver
After Pirates of the Caribbean filming in Vancouver wraps up it will be just over a year before it's released in theatres on May 26th, 2017.