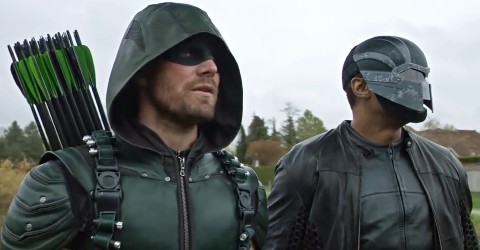 After just over 2 months of hiatus, Arrow Season 5 has officially started filming in Vancouver today. Below we take a look at what we can expect to see from the next chapter of the show.
It's very early to tell, but all signs point to Arrow Season 5 being a big departure from the past season. Among many viewers of the show, the change is welcome. From the many interviews circulating over the past couple months it seems like Team Arrow, and the show as a whole is looking to get back to its roots.
Stephen Amell took to Facebook to give a hint at what's in store, stating that Arrow Season 5 "has the opportunity for us to have the most vicious, violent one shot in the history of network television". It sounds like we won't have to wait too long for that moment; a couple of weeks ago, Amell tweeted that he was told "You have 21 days to get as ripped as you've ever been for the most vicious oner in the history of network tv".
"You have 21 days to get as ripped as you've ever been for the most vicious 'oner' in the history of network tv. No stunt double."

— Stephen Amell (@StephenAmell) June 22, 2016
This would indicate that the scene will be filmed within the first episode of the season. Stunt Coordinator James Bamford is set as the director for the episode. He directed 2 episodes in season 4 (4×14 'Code of Silence' and 4×7 'Brotherhood').
Showrunner Marc Guggenheim took to Twitter today to post some further details about the Arrow Season 5 premiere episode including its title: 'Legacy'.
Arrow Season 5 begins production today. @MericlesHappen @GBerlanti @JamesBamford pic.twitter.com/LbCvVfsMrZ

— Marc Guggenheim (@mguggenheim) July 5, 2016
Arrow Season 5 Cast
In addition to the familiar faces of Stephen Amell (Oliver), Emily Bett Rickards (Felicity), Willa Holland (Thea), David Ramsey (Diggle) and Audrey Marie Anderson (Lyla), Arrow has added a number of new characters for season 5. Here's an overview of each.
Madison McLaughlin (Chicago P.D.), who appeared briefly as a Black Canary wannabe near the end of last season will return to reprise her role as Evelyn Sharp. She'll also become DC Comics character 'Artemis', and will be an ally of Team Arrow. Her first appearance will be episode 2.
Another Chicago P.D. alum, Josh Segarra, has joined Arrow as Oliver Queen's newest non-vigilante ally, Adrian Chase. With the passing of Laurel Lance, Chase will take over the Star City District Attorney role, determined to make the city a better place. I'm sure Chase will become close with Star City's newest police detective, Malone, who will be played by Tyler Ritter (The McCarthys).
There's another new vigilante in Star City for Arrow Season 5. Rick Gonzalez (Mr. Robot, Rush, Rosewood) will play 'Wild Dog', a DC Comics character who the Green Arrow will mentor throughout the season. His first appearance will be in the season premiere.
In the aftermath of of Damien Darhk, there's a new villain in town; 'Tobias Church' will be played by Chad L. Coleman (The Walking Dead). Tobias is a crime lord whose sinister plan is to assemble all of Star City's criminals under his power.
Vancouver's own Carly Pope (Elysium, Popular) will portray a Coast City reporter by the name of 'Susan Williams'. In the DC Comics Universe, Coast City is home to the Green Lantern (aka Hal Jordan). Interestingly, in the flashbacks at the end of season 3, we saw Oliver boarding a boat destined for Coast City. The Flash has made reference to Coast City in the past as well. Could this just be another Easter Egg, or do you think there's more to it? Susan Will first appear in episode 3.
And last but not least, we can't forget that WWE's Cody Rhodes (also known as Stardust) will make an appearance as a guest star in Arrow Season 5. Amell (or was it the Green Arrow?) and Rhodes had very public 'beef' over the past year. After various tweets back and forth, Amell eventually appeared during a WWE match to face-off against his enemy. Earlier this year, Stardust made a surprise appearance at Dallas Comic Con and which resulted in another confrontation.
Looks like Rhodes is looking forward to his appearance in Arrow:
I step into this respectfully, humbly, and looking to do it justice for the fandom #HVFF @CW_Arrow pic.twitter.com/UbU0lzG4df

— Cody Rhodes (@CodyRhodes) July 2, 2016
Here's the videos of the earlier confrontations…
Video: Neville & Stephen Amell vs. Stardust & King Barrett: SummerSlam 2015

Video: Stardust/Stephen Amell confrontation at Dallas Comic Con 2016!

The Biggest CW Crossover Event Ever
We'd be amiss if we didn't mention the impending crossover episode(s) the network is building towards. With Arrow, The Flash, Legends of Tomorrow and Supergirl all airing on the CW Network, it has opened the door for the network's largest crossover event ever. According to the CW, we can expect the crossover event to take place in December. It's almost certain that there will be crossover-esque cameos between the shows throughout the whole season as well.
See also:
Arrow Season 4 Finale Filming in Downtown Vancouver (Photos)
Arrow Season 5 will be filming in Vancouver and area until April 19th, 2017 and will premiere October 5th at 8pm on CW in the US and CTV 2 in Canada. If you spot Arrow Season 5 filming, or see the show's "OQF" signs, let us know by tweeting us (@WhatsFilming) or via our Submit a Location page.