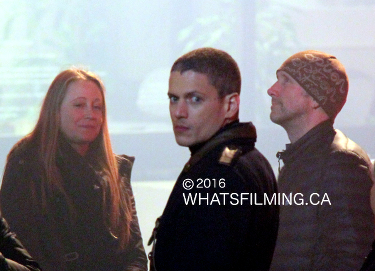 DC's Legends of Tomorrow took over Vancouver's Robson Square on Wednesday, February 24th, 2016 to film scenes for episode 13 of season 1. Check out a few pics from the set below.
Spoiler Warning! As with all set photos, there's always a possibility of a picture or something we say could be considered a spoiler.
The episode is titled "Leviathan" which, in the DC comics world, is the name of an international crime organization headed by Talia Al Ghul. Talia is the daughter of Ra's and former wife of Batman and the mother of his child. You would think that the Legends of Tomorrow show runners wouldn't use a title such as "Leviathan" without at least some tie in to its comic origins but we'll have to wait and see.
The scenes being filmed at Robson Square on Wednesday night included a large army of futuristic looking soldiers (pictured below). I'm not sure if these were indeed the Leviathan but that would make sense. Either way, the army appeared to be under the control of Vandal Savage (Casper Crump) and a female character who I don't believe we've met before. Since the show runners like to throw curve balls our way (ie. Connor Hawke not being the son of Oliver) it's not safe to say she was Talia Al Ghul. We'll have to wait for the episode to air or an official announcement to see.
What we do know thanks to @canadagraphs is that the actress portraying the character is guest star Jessica Sipos (Cold Deck, Dead on Campus, Ascension). Here's a pic @canadagraphs took of Jessica with Vandal Savage:
#LegendsOfTomorrow star Casper Crump rehearses scene with guest star Jessica Sipos on set Wednesday. pic.twitter.com/84HCwhIXNv

— Canadagraphs (@canadagraphs) February 26, 2016
In addition to Vandal Savage and his female counterpart, also on set was Rip Hunter (Arthur Darvill), Captain Cold (Wentworth Miller), White Canary (Caity Lotz) and Heat Wave (Dominic Purcell). All of which were sporting a different outfit than we're used to seeing them in.
Here's some photos of Legends of Tomorrow Filming at Robson Square in Vancouver
As you can see from the pictures, Robson Square was beautifully lit with a combination of white and red lights. The red lights further indicate that the army we saw was the Leviathan from the comics as their story was usually married with the colour red. There was a red logo placed throughout the set and being projected onto the walls. I don't recognize the logo, but if anyone else does please let us know in the comment section below.
See also:
Episode 13 "Leviathan" is expected to air sometime in April. Legends of Tomorrow will continue filming in Vancouver and area until April 1st.