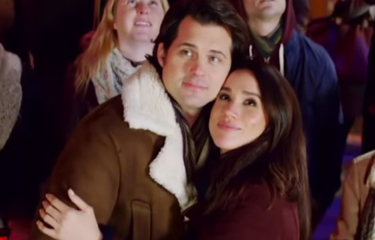 Last month Sarah Rafferty and Meghan Markle, who both star in the hit TV series Suits, were in Vancouver to film Hallmark TV movies, Dater's Handbook and All Things Valentine. Check out the official trailers for both movies below.
Though I'm sure it wasn't completely a coincidence, it was ironic to have 2 of the main cast from Suits both in Vancouver at the same time to film 2 different Hallmark Valentine's Day movies. Sarah Rafferty (who plays Donna Paulsen on Suits) was here for All Things Valentine and Meghan Markle (who plays Rachel Zane) was here for Dater's Handbook.
Despite busy schedules, the two made sure to spend some time together during downtime including a celebration for Sarah's birthday. Here's a picture that Sarah shared on her Instagram:
All Things Valentine
A modern love story about a blogger who, after years of bad experiences on Valentine's Day is ready to give up on love altogether. That is until she meets a handsome veterinarian and starts to fall for him. Ironically, she later finds out that her blog is responsible for ending his last relationship and since then he's been leaving angry comments. This leaves her wondering if the relationship will be her true love story or is it nothing more than yesterday's news. The movie also stars Sam Page who you may know from Switched at Birth, House of Cards or Self/Less.
All Things Valentine Filming Locations:
A building at 1220 Homer Street, Vancouver was turned into The Portland Banner. Scenes were filmed inside the building mainly. Here's a pic: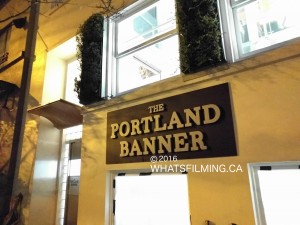 Neverland Tea Salon (3066 West Broadway, Vancouver) was closed for 2 days while the movie filmed interior scenes. The set was decorated with hanging hearts and balloons. Here's a pic: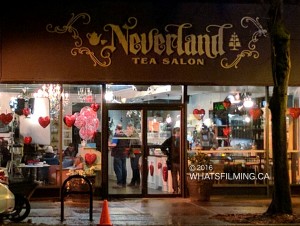 Sarah filmed a scene along the sidewalk/grass in the middle of Pacific Blvd in the 1200 block in Vancouver. Later the same day, Sarah filmed a walking dialogue along the Roundhouse Community Arts & Recreation Centre's (Vancouver) rear walkway.
Early in the production, scenes were filmed at a private residence near 217a St and 46 Ave in Langley.
The veterinary clinic scenes were filmed at Aldergrove Animal Hospital.
See also:
Sarah Rafferty From Suits in Vancouver for Hallmark's All Things Valentine
Dater's Handbook
In an effort to change up her dating routine, a woman turns to a book, The Dater's Handbook, to find her true love. Along the way she discovers that what she is looking for is someone who loves her the way she is, and not someone who meets all the criteria set out by the book. Dater's Handbook also stars Kristoffer Palaha who you may know from Life Unexpected (he played Nate Bazile).
Dater's Handbook Filming Locations
As far as locations, Dater's Handbook spent a lot of time filming in and around the Squamish area. One location in particular was the upper (north bound) Tantalus Lookout along the Sea to Sky Highway. They also filmed scenes at REVS Bowling in Maple Ridge.
See also:
Filmed in Vancouver Hallmark Movie News
Both movies premiere just in time for Valentine's Day starting with Dater's Handbook on Saturday, January 30th at 9pm followed by All Things Valentine on Sunday, January 31st at 9pm. While you wait, check out the official trailers for both movies which were just released yesterday: