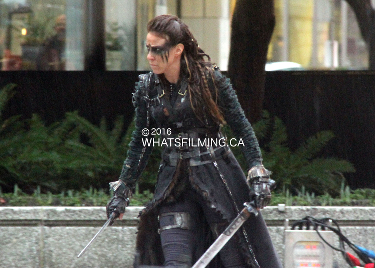 Early this morning, hit TV series The 100 took over downtown Vancouver's Oceanic Plaza to film scenes for the season 3 finale. Some familiar faces on set too, check out some pictures from the set below.
Usually sets for The 100 are hidden away in the depths of the Vancouver regions many forested areas or inside their Langley studio. It will be quite interesting to see how season 3 unfolds and what leads the crew to a suburban setting like Oceanic Plaza, which is in the heart of downtown Vancouver.
The scene took place on the stairs and featured the return of everyone's favourite Grounder's commander, Lexa. It appeared as though Lexa and Clarke were still allies in this scene as Lexa came to Clarke's rescue when she was in trouble.
Lexa's character first appeared in season 2, portrayed by Alycia Debnam Carey. You may also recognize her from Fear the Walking Dead which also filmed its first season in Vancouver. Clarke is part of the original cast and is portrayed by Eliza Taylor.
Here's some photos from The 100 set in downtown Vancouver:
NOTE: This was a stunt double, but still cool to know Lexa was on set.
See also:
Movies and TV Show Currently Filming in Vancouver
Season 3 of The 100 premieres tonight at 8pm and is scheduled to continue filming the last episode of the season until January 28th.