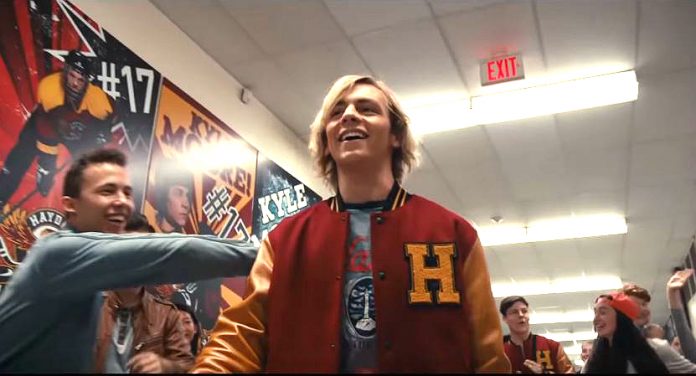 Status Update filmed in Vancouver and area from June 13 to July 19th, 2016 and it hits theatres in the UK on February 9th, followed by a North American release that's expected to be later this year. The story was written by Jason Filardi, who wrote 17 Again and Bringing the House Down. It centres around a teenage boy named Kyle Moore, played by Disney's Austin & Alley star Ross Lynch.
Update: The North American premiere is happening March 30th.
Kyle deals with the typical high school and coming of age struggles until an unexpected cell phone repair shop visit changes his life forever. After having to ditch his old digs, he discovers his new phone has the ability to turn anything he posts online into a reality. Although Kyle feels like he's on top of the world at first, it's easy to let that kind of power go to your head.
Status Update Cast
Here's a roundup of the cast of Status Update, thanks in part to the film's IMDb page.
| Actor | Role | You may know them from |
| --- | --- | --- |
| Ross Lynch | Kyle Moore | Austin & Alley, My Friend Dahmer, Teen Beach |
| Olivia Holt | Dani | Kickin' It, I Didn't Do It |
| Courtney Eaton | Charlotte | Mad Max: Fury Road |
| Harvey Guillen | Lonnie | The Internship, The Magicians, Haters Back Off |
| Brec Bassinger | Maxi Moore | Bella and the Bulldogs, Haunted Hathaways |
| Gregg Sulkin | Derek Lowe | Faking It, Wizards of Waverly Place |
| Rob Riggle | Darryl Moore | The Daily Show, The Hangover |
| Alexandra Siegel | Ms. Westcott | The History of Us |
| Markian Tarasiuk | Brian Massey | A Time to Dance, Shut Eye |
| Famke Janssen | | X-Men Series, Hemlock Grove |
| John Michael Higgins | | Pitch Perfect Series, Yes Man |
| Wendi McLendon-Covey | Ann Moore | The Goldbergs |
| Josh Ostrovsky | | Wifed Out, Story Time with Fat Jew |
| Osric Chau | Donald Fu | Supernatural, Dirk Gently |
| Maude Green | Cassie | Center Stage: On Pointe |
| Vivian Full | Beth | Mostly Ghostly: One Night in Doom House |
| Andrew Herr | Oliver | Mostly Ghostly: One Night in Doom House, Letterkenny, Bigger Fatter Liar |
Status Update Trailer
A second trailer was released ahead of the North American premiere happening on March 30th:

Where Was Status Update Filmed?
Here are some of the filming locations where Status Update was spotted during production.
Incendio Restaurant at 103 Columbia Street (Gastown, Vancouver)
00 Block Alexander Street (Gastown, Vancouver)
Britannia Secondary School (Vancouver)
Lord Byng Secondary School on West 16th Avenue (Vancouver)
Shaughnessy Elementary School (Vancouver)
2065 William Street (Vancouver)
Jericho Beach (Vancouver)
Father Bauer Arena at Doug Mitchell Thunderbird Sports Centre, University of British Columbia
Deer Lake Park Festival Lawn (Burnaby)
Private mansion near Crescent Beach (South Surrey)
Let us know in the comments if you spot any other Status Update filming locations that we missed!
Status Update Behind the Scenes Pictures
Here are a few pictures we took of Ross Lynch and Brec Bassinger while Status Update was filming at Lord Byng Secondary School in Vancouver.
Status Update Filming in Vancouver
To check out the rest of the photos from that day, check out THIS ARTICLE.
Some behind the scenes photos shared by the cast while filming Status Update in Vancouver.
Don't miss Status Update when it hits theatres in the UK on February 9th and in North America on March 30th.