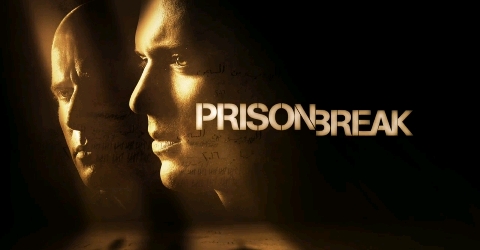 Prison Break Season 5 (aka Reboot/Revival) filmed on location in metro Vancouver during 2016 and it finally premieres at 9pm today on Fox in the US and City TV in Canada. Check out a list of the Prison Break season 5 filming locations below.
Although much of Prison Break season 5 is set in Yemen, the majority of it was filmed in the Vancouver area. Production of the 9 episode reboot began on April 7th, 2016 at Riverview Hospital in Coquitlam and continued in various locations around the Lower Mainland until July 11th. Some cast and crew took a brief hiatus mid way through production to film several scenes and establishing shots in Morocco. It was there that Dominic Purcell (Lincoln) suffered a severe head injury while on set.
RELATED: Prison Break Revival Series Starts Filming in Vancouver in April
Prison Break Season 5 Filming Locations
Here's some screenshots that stood out from the trailers that have been released so far, but check out the full list of Prison Break season 5 filming locations further below.
Sarah's House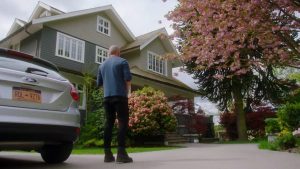 Lincoln's House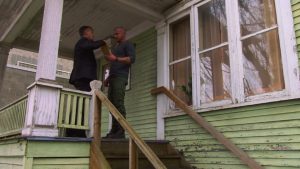 Lincoln & Sucre Airport Walk & Talk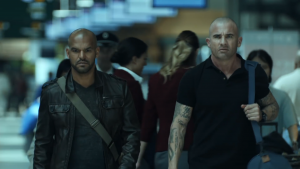 Lincoln at the Cemetery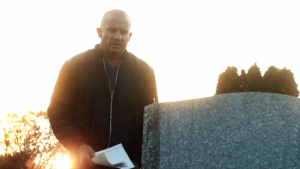 Here's a roundup of the rest of the locations where Prison Break season 5 was spotted filming:
Vancouver
Warehouse at 1000 Parker Street
Private residence at 1974 Cedar Crescent
Queen Elizabeth Park
Honolulu Coffee Kerrisdale at 2098 West 41st Avenue
401 West Georgia Street
5255 Heather Street
Port of Metro Vancouver near Commissioner Street
Pacific Central Station
Plaza of Nations
University of British Columbia (UBC)
Vancouver Auto Centre on Powell Street
Yaletown Seawall
New Westminster
815 Victoria Street
New Westminster City Hall
Anvil Centre Parkade
4th Avenue and 6th Street
Columbia Street and 8th Street
Justice Institute of British Columbia
Burnaby
Deer Lake Park Beach Area
Denny's Restaurant on Kingsway
Warehouse 11th Avenue and 16th Street
Burnaby Lake near Glencarin Drive
Surrey
Surrey City Hall
Six Technologies at 5674-176th Street (Cloverdale)
5600 Block 176th Street (Cloverdale)
North Shore
Barge on Howe Sound near Eagle Harbour Yacht Club (West Vancouver)
Ship docked in the Burrard Inlet near 1800 Block Harbour Road (North Vancouver)
Coquitlam
Port Coquitlam
Shaughnessy Street near Mary Hill Bypass
Pitt River and riverbank near the 2100 Block Argue Street
Delta
Interior Ogygia prison scenes were filmed primarily on soundstages at Bridge Studios in Burnaby. Check out this behind the scenes tour of the prison sets hosted by Augustus Prew, who plays Whip on the show.
Prison Break Season 5 Episode 1 Preview
Yesterday the official Prison Break Facebook Page shared the first 5 minutes of season 5 episode 1. Check it out here:

RELATED: Movies & TV Shows Currently Filming in Vancouver
If you spot any other Prison Break season 5 filming locations let us know in the comments below!