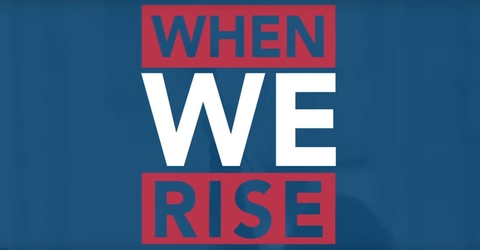 ABC's When We Rise miniseries from Dustin Lance Black was filmed in the Vancouver area and San Francisco from March 2nd to June 22nd of 2016 and it premieres Monday, February 27th at 9pm. Check out the official trailer and filming locations below.
Inspired by real life stories, When We Rise highlights the struggle experienced by many during the LGBT civil rights movement. The script was written by Dustin Lance Black, who won an Academy Award for Best Original Screenplay for the 2008 film Milk. Gus Van Sant, who directed Milk, serves alongside Dustin as one of the executive producers for When We Rise and is also credited for directing one of the episodes.
When We Rise Cast
Main Cast
| Actor | Role | You may know them from |
| --- | --- | --- |
| Guy Pearce | Cleve Jones | Memento, L.A. Confidential, Iron Man 3 |
| Mary-Louise Parker | Roma Guy | Weeds, Angels in America, The West Wing |
| Rachel Griffiths | Diane | Blow, Brothers & Sisters, Hacksaw Ridge |
| Carrie Preston | Sally Gearhart | True Blood, The Good Wife, Person of Interest |
| Michael Kenneth Williams | Ken Jones | Hap and Leonard, Boardwalk Empire, 12 Years a Slave |
| Emily Skeggs | Young Roma Guy | Don't Think Twice |
| Ivory Aquino | Cecilia Chung | |
| Jonathan Majors | Young Ken Jones | |
| Austin P. McKenzie | Young Cleve Jones | |
There will also be a number of notable actors making appearances in the series. This includes Whoopi Goldberg, Rosie O'Donnell, Denis O'Hare, David Hyde Pierce, and Matthew Del Negro.
When We Rise Filming Locations
Although it's set in San Francisco, the majority of the filming was done around Vancouver, and specifically the downtown East Side, but they also spent some time in New Westminster, Delta. A few scenes were actually filmed in San Francisco itself. Here's a roundup of all of the locations we're aware of.
Vancouver
1000 Beach Avenue
1100 Block West Hastings Street
251 & 600 Block East Hastings Street
222 Keefer Street
304 Dunlevy Avenue
300 Block, 326, 328, 332, 338, 344, 400 Block Powell Street
303, 373 & 381 East Cordova Street
450 Heatley Avenue
472 Union Street
500 Block Carrall Street
429 & 525 Campbell Avenue
5255 Heather Street
640 East Georgia Street
814 Jackson Avenue
Arch Alley (near Victory Square)
Cambie Street between West Cordova Street and West Hastings Street
Gore Avenue at Powell Street
Hotel Georgia
Jackson Avenue and Union Street
Ovaltine Cafe on East Hastings Street
Pacific Central Station
Shanghai Alley
St. James Anglican Church on Powell Street
Vancouver Art Gallery
Vancouver City Hall
West Hastings Street between Hornby Street and Burrard Street
New Westminster
Arundel Mansion Hotel at 48 Begbie Street
Hume Park
The Museum of the Royal Westminster Regiment Armory
Delta
San Francisco
Buena Vista Park
Castro district including 520 Castro Street and outside the Castro Theatre
Mission District
San Francisco City Hall (for infamous White Night Riots)
Do you know of a location we may have missed? Let us know in the comments below!
THEPDXGIRL.com captured lots of great pictures of When We Rise filming around Shanghai Alley in Vancouver's Chinatown. Check them out here.
Check Out Filming in Vancouver BC WHEN WE RISE With Gus Van Sant https://t.co/cToOH6tPZa pic.twitter.com/RHyqC6UP91

— thepdxgirl (@thepdxgirl) March 30, 2016
RELATED: Movies and TV Shows Currently Filming in Vancouver and British Columbia
When We Rise Official Trailer
Don't miss the 2-hour premiere of When We Rise on ABC Monday, February 27th at 9pm.