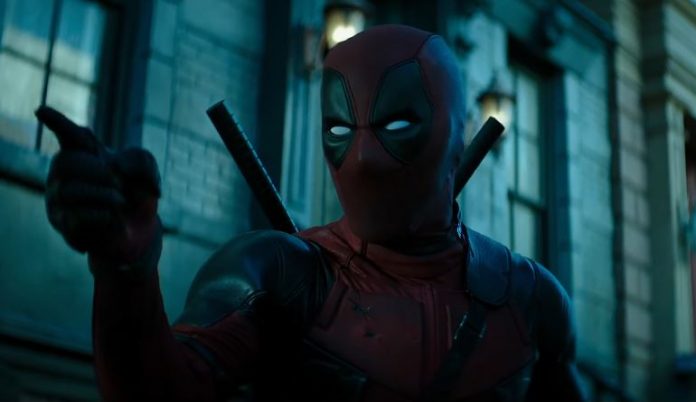 After what seemed like endless delays, Marvel's Deadpool 2 filming is officially underway in Vancouver and area. Ryan Reynolds revealed the first behind the scenes set photo on June 17th, which contained a mild spoiler. The photo, shown below, shows Reynolds fully suited up as Deadpool in one of his classic poses outside of Hatley Castle. Fans of the X-Men movie franchise will recognize the location as the setting for Professor Charles Xavier's mansion.
Hatley Castle is also a widely popular filming location outside of the X-Men universe as well. This summer it will be seen as one of the primary locations in Disney's Descendants 2 and it has also been used as the Queen Mansion in the CW TV series Arrow.
As many will remember, the first Deadpool movie filmed in Vancouver and area in the spring of 2015 with some reshoots happening later that year before it was released in theatres in February of 2016. Although one of the movie's most infamous locations was Vancouver's Georgia Street viaduct (which was closed down for several days over the course of a month), some of the other locations used were:
The Cobalt on Main Street
Gore Street / Keefer Street in Chinatown
126 Gore Street
300 Block of Powell Street
Burrard Iron Works
Leeside Skatepark
No. 5 Orange
PNE
REVS Bowling & Entertainment (Burnaby)
Arch Alley
Deadpool 2 Filming Locations
Thanks to @ThemysciraBound, @hedwigyitzhak and @janellehiebert1 who discovered some location details for Deadpool 2 filming this week:
Tuesday they'll be filming on a rooftop located at 1090 West Pender Street in Vancouver from 7pm to 11pm. Wednesday through Friday they'll move to Vancouver's Gastown district to film various scenes around Cambie and W Cordova Streets from approximately 8pm to 6am each night.
Deadpool 2 filming signs ("DAISY") were also spotted near the PNE last week by @pursuit23.
As more locations are spotted, they'll be added to our Current Filming Locations Page as well as our Filming Locations Archive, so check back often for updates!
Deadpool 2 Cast
In addition to Vancouver's own Ryan Reynolds, here's a roundup of the rest of the cast announced so far, thanks in part to the film's IMDb page:
| Actor | Role | You may know them from |
| --- | --- | --- |
| Ryan Reynolds | Wade Wilson/Deadpool | Deadpool, The Proposal, Green Lantern |
| Morena Baccarin | Vanessa | Deadpool, Homeland |
| Zazie Beetz | Domino | Atlanta |
| T.J. Miller | Weasel | Deadpool, Silicon Valley, Goon: Last of the Enforcers |
| Josh Brolin | Nathan Summers/Cable | W., Wall Street: Money Never Sleeps |
| Leslie Uggams | Blind Al | Deadpool, Empire |
| Jack Kesy | | Baywatch, The Strain |
| Shioli Kutsuna | | Petaru dansu |
| Brianna Hildebrand | Negasonic Teenage Warhead | Deadpool, First Girl I Loved |
| Karan Soni | Dopinder | Deadpool, Ghostbusters |
| Stefan Kapicic | Colossus (voice) | Deadpool, Big Miracle |
Update 6/28: Ryan Reynolds welcomed New Zealand actor Julian Dennison (Hunt for the Wilderpeople) to the cast of Deadpool with this post to his Instagram:
Last but certainly not least, as always a big thank you to @lemon_buzz for originally breaking the news that Deadpool 2 filming would be happening in Vancouver. Filming is currently scheduled to continue until October 6th 10th.
Deadpool 2 Teaser
In case you somehow missed this before, a short Deadpool 2 teaser was included at the end of Logan which hit theatres earlier this year. You can check out the hilarious clip that pokes fun at Superman/Clark Kent here:

Deadpool 2 Behind the Scenes
Here's some more behind the scenes photos shared by the cast and crew during production:
Josh Brolin as Cable
Zazie Beetz as Domino:
Leslie Uggams returns as Blind Al:
Update 8/14: A terrible tragedy occurred on the set of the movie during the morning of August 14th. During the filming of a stunt sequence involving a motorcycle, the stunt performer driving has passed away. We first heard the news of an accident from @jerfree's tweet below. The death was later confirmed by the Vancouver Police.
Stunt gone wrong at Canada place. Motorcycle stunt driver went into Starbucks. Non responsive. @WhatsFilming pic.twitter.com/TaB4yThBOh

— JerFree (@jerfree) August 14, 2017
A stunt driver has died on the set of Deadpool during a stunt on a motorcycle. VPD & @WorkSafeBC investigators are at the scene.

— Vancouver Police (@VancouverPD) August 14, 2017
Some images from the scene via @VanCityVilla:
Unfortunate scenes on the Deadpool 2 set this morning as a stunt driver passed away after a motorcycle accident. @WhatsFilming #yvrshoots pic.twitter.com/5Fmv1f2muG

— VanCityVilla (@VanCityVilla) August 14, 2017
Ryan Reynolds took to social media to share condolences on behalf of himself, the cast and crew of the movie:
— Ryan Reynolds (@VancityReynolds) August 14, 2017
The production had planned to have a second location for the day under the North-end of the Granville Street Bridge, however @enemabagjones posted that it had been put on hold until further notice due to the tragedy. The production was expected to film under the bridge on Tuesday as well.
@yvrshoots @WhatsFilming Deadpool 2 filming under Granville bridge "on hold until further notice" due to tragedy at Jack Poole Plaza

— enemabagjones (@enemabagjones) August 14, 2017
Filming resumed 2 days later, on Wednesday, August 16th under the North-end of the Granville Street Bridge:
Notice posted that #Deadpool2 will resume shooting tmw using a UAV (unmanned air vehicle) under Granville Bridge. @yvrshoots @WhatsFilming pic.twitter.com/Y6AB0q0DNU

— winesocietygal (@winesocietygals) August 16, 2017
Also Starting This Week
Misfits (Freeform TV Pilot)
Cast: Ashleigh LaThrop (Sirens), Tre Hall (Rebel), Allie MacDonald (Orphan Black) and Jake Cannavale (Nurse Jackie)
Filming until July 14th
For more details about the Misfits TV pilot, check out our 2017 TV Pilot Roundup.
The Man in the High Castle – Season 3 (Amazon TV Series)
Cast: William Forsythe, Michael Gaston, Rufus Sewell, Cary-Hiroyuki Tagawa, Alexa Davalos, Luke Kleintank, DJ Qualls, Joel De La Fuente, Brennan Brown and Bella Heathcote
Filming until November 28th
For a full list of what's filming in Vancouver and British Columbia right now, check out our In Production page.
Wrapping Up This Week
If you see any of these productions, including the Deadpool 2 filming in Vancouver and British Columbia, be sure to let us know by tweeting us (@WhatsFilming) or via our Submit a Location page.