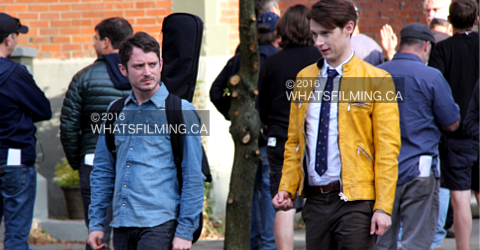 This week, BBC America TV series Dirk Gently with Elijah Wood and Samuel Barnett starts filming in Vancouver and area.
Dirk Gently – Season 1 (TV Series)
Dirk Gently is based on the 1987 novel Dirk Gently's Holistic Detective Agency written by Douglas Adams. Douglas Adams is best known for writing The Hitchhiker's Guide to the Galaxy, a hugely successful book series which was adapted for radio, television and a feature film which was released in 2005. Dirk Gently has also become a classic over the years, and has already seen a couple of radio and TV adaptations by BBC in the UK through the 2000's.
The script for the latest adaptation for BBC America is written by Max Landis (Chronicle, Victor Frankenstein, American Ultra).The story is a comical look into the supernatural cases being investigated by Dirk Gently and his assistant Todd. Dirk is played by Samuel Barnett (Jupiter Ascending, Bright Star) and Todd is played by Elijah Wood (The Lord of the Rings Trilogy, Wilfred). The pair use unorthodox methods combined with Dirk's physic abilities to piece together the mystery which unfolds throughout the 8-episode season. Hannah Marks (The Amazing Spider-Man, Necessary Roughness, Awkward) will play Todd's younger sister, Amanda.
Several additional cast members were announced via Deadline. Here's a round up:
| Actor | Role | You may know them from |
| --- | --- | --- |
| Neil Brown Jr. | Estevez | Straight Outta Compton |
| Richard Schiff | Zimmerfield | The West Wing |
| Jade Eshete | Farah Black | Shades of Blue |
| Mpho Koaho | Ken | Falling Skies |
| Fiona Dourif | Bart Curlish | When We Rise |
| Michael Eklund | Martin | The Call II |
| Miguel Sandoval | Colonel Scott Riggins | Medium |
| Dustin Milligan | Sergeant Hugo Friedkin | Schitt's Creek |
| Aaron Douglas | Gordon Rimmer | Battlestar Galactica |
Robert Cooper (Stargate Atlantis/Universe) will serve as the showrunner and Executive Producer alongside Max Landis. Dean Parisot (Galaxy Quest, Justified, Masters of Sex) directing the first two episodes.
Check out some photos from Dirk Gently's first day of filming HERE.
Dirk Gently will be filming in Vancouver and area until August 30th and is expected to premiere this fall.
Also Starting This Week
Secret Millionaire (TV Movie)
Filming until June 9th
Campus Collar (Home Video)
Filming until June 15th
For a full list of everything that's filming in Vancouver and British Columbia right now, check out our In Production page.
Wrapping Up This Week
Hot Street (Feature) with Paige Shaw, Matthew Cortez and Travis Lim wraps up May 24th
Power Rangers (Feature) with Naomi Scott, Becky G., RJ Cyler, Darce Montgomery, Lundi Lin, Elizabeth Banks and David Denman wraps up May 25th
Crushed (TV Pilot) with Regina Hall, Colm Feore, Alex Kingston, Jacob Vargas and Bashir Salahuddin wraps up May 26th
If you see any of these productions, including Dirk Gently season 1 filming, be sure to let us know by tweeting us (@WhatsFilming) or via our Submit a Location page.