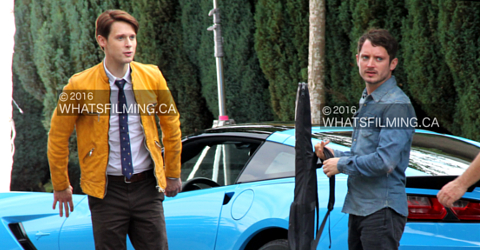 Elijah Wood & Samuel Barnett were filming Dirk Gently, the new BBC America series in Vancouver's Mount Pleasant neighbourhood yesterday. Check out some photos below.
Filming officially started yesterday in Vancouver for the supernatural detective series Dirk Gently. Lord of the Rings star Elijah Wood and Samuel Barnett (Jupiter Ascending) were both on set and we had a chance to check out some of their first scenes together. Samuel plays the lead/titular character, Dirk, the eccentric and unorthodox detective. Elijah plays Dirk's loyal assistant and friend Todd. Together Dirk and Todd unravel the mysteries behind a supernatural case over the 8-episode season.
The script, written by Max Landis, is an adaptation from the popular 1987 novel by Douglas Adams. Max already has a number of successful projects under his belt including Chronicle, Victor Frankenstein and American Ultra; all of which were written by him. He also serves as one of the series Executive Producers alongside showrunner Robert Cooper (Stargate Atlantis/Universe). Dean Parisot (Galaxy Quest, Justified, Masters of Sex) is directing the first two episodes. Max was on set yesterday, actively engaged with cast and crew while watching his work come to life.
The scenes we watched yesterday took place outside of a building known as The Connaught on Guelph Street in Vancouver's Mount Pleasant neighbourhood. It started with Dirk and Todd (with a guitar strapped to his back) running from the building and being chased by a crazy/upset man who appeared to be their landlord. The two hopped in a brand new, blue Chevy Corvette with Dirk behind the wheel. They sped away at high speed putting the car into a sideways, sliding burnout as they left. Of course, during that part a stunt driver took the place of Samuel Barnett. Elijah stayed in the car though.
Photos of Elijah Wood & Samuel Barnett filming Dirk Gently
Full a full round up of the cast of Dirk Gently, check out our article here.
Thanks to @MizLzie who posted the location details. They will continue to film at the same location for the remainder of the week.
Dirk Gently will continue filming in Vancouver and area until August 30th and is expected to premiere this fall. If you spot Elijah Wood, Samuel Barnett and Dirk Gently filming, or their signs "OPUS", be sure to let us know by tweeting us (@WhatsFilming) or via our Submit a Location page.