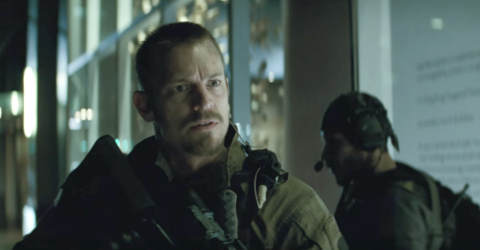 This week, new Netflix original series Altered Carbon with Joel Kinnaman starts filming in Vancouver and British Columbia.
Altered Carbon Season 1 (TV Series)
Netflix continues to expand their original programming lineup with Altered Carbon, an R-rated 10-episode sci-fi series set in the 25th century. Based on a book of the same name written by Richard K. Morgan, the story follows a former warrior turned prisoner named Takeshi Kovacs who is played by Suicide Squad star Joel Kinnaman.
Takeshi is given a chance to redeem himself after being sent into a future where everything that makes up a human being is stored on a digital chip inside the neck of the body it's attached to. The technology essentially makes death irrelevant because if something happens to your current body, you can just have your chip installed into a new one.
Although the series is just beginning, it's already been drawing comparisons to HBO's Game of Thrones in terms of production scale and ambition. In fact, according to an interview that Kinnaman did with Yahoo, the show is creating "a world that's got a bigger budget than the first 3 seasons of Game of Thrones" making it the biggest production Netflix has created to date. Other Netflix original productions filmed in Vancouver and area include: Travelers, A Series of Unfortunate Events, Death Note, Haters Back Off and Project Mc2.
Joel Kinnaman is no stranger to filming in Vancouver. He played Stephen Holder on The Killing which filmed in the region during its 4 seasons. He also played the lead role in the 2014 Robocop movie which filmed mostly in Toronto but spent time in Vancouver for reshoots back in 2013. In addition to Joel Kinnaman, Altered Carbon has a solid cast announced already – here's a roundup:
| Actor | Role | You may know them from |
| --- | --- | --- |
| Joel Kinnaman | Takeshi Kovacs | Suicide Squad, Robocop, House of Cards, The Killing |
| Renee Elise Goldsberry | Quellcrist Falconer | The Good Wife, One Life to Live, Sisters |
| Martha Higareda | Kristin Ortega | Royal Pains |
| James Purefoy | Laurens Bancroft | A Knight's Tale, Hap and Leonard, High-Rise, The Following |
| Dichen Lachman | Reileen Kawahara | Supergirl, The 100, King & Maxwell, Shameless, Agents of S.H.I.E.L.D. |
| Leonardo Nam | Stronghold Kovacs | Westworld, The Fast and the Furious: Tokyo Drift |
| Chris Conner | Poe | The People v. O.J. Simpson: American Crime Story, Walk of Shame |
| Ato Essandoh | Vernon Elliot | Blue Bloods, Elemantary, Vinyl, Django Unchained, Chigaco Med |
| Trieu Tran | Mister Leung | The Newsroom |
| Marlene Forte | Alazne Ortega | The Fosters, Fear the Walking Dead, Dallas |
| Fiona Vroom | Sandy Kim | Dirk Gently's Holistic Detective Agency, Van Helsing, Bates Motel |
Altered Carbon's parent production company, Skydance Media, recently setup some permanent roots in the region after opening up a 75,000 square foot studio facility on 88th Avenue near 120th Street in Surrey. The building, which was formerly Pacific Newspaper Group, has been transformed into 5 sound stages with Altered Carbon set to become its first of many productions. Skydance Media also produced Star Trek Beyond/Into Darkness, Mission: Impossible Rogue Nation/Ghost Protocol, Terminator Genisys and more. Altered Carbon joins their current TV slate which includes Grace and Frankie, Red Mars, Jack Ryan and Ten Days in the Valley.
In addition to Skydance Studios in Surrey, signs for Altered Carbon (ACP) have been posted at downtown Vancouver's former Canada Post building for the past few weeks. They were also spotted setting up at the Bloedel Conservatory at Queen Elizabeth Park by @TheRealMrSweary.
Altered Carbon Season 1 will be filming in Vancouver and British Columbia until June 20th, 2017.
Also Starting This Week
The Wedding Stalker (aka Psycho Wedding Crasher) (TV Movie)
Jenna is a seamstress who works for her aunt making wedding dresses. Frustrated with never being the bride herself, Jenna decides it's her turn to find the man of her dreams. She meets her perfect man, Glenn… AND his fiancée Marci. Although Glenn is already engaged, Jenna won't let that minor detail stand in the way of her happily ever after.
Former Glee star Heather Morris is set to play a leading role in the movie. Vancouver's own Fiona Vroom (Bates Motel, Death of a Vegas Showgirl, Dirk Gently) is also among the cast.
Production started on Monday at a private residence in Maple Ridge. The Wedding Stalker will be filming in Vancouver and British Columbia until November 30th.
Nightmare Time (TV Pilot)
Filming until November 22nd
Cast: Aubrey Plaza (Legion, Parks and Recreation)
Birthday Wish (TV Movie)
Cast: Luke Macfarlane, Jessy Schram, Marcus Rosner, Davis Lewis
Filming until December 2nd
Walking the Dog (TV Movie)
Cast: Lini Evans, Jennifer Finnigan, Peter Benson
Filming in the Victoria area until December 2nd
Pupstar 2 (Home Video)
Filming in Victoria and possibly the lower mainland until December 16th
Witness Protection (TV Movie)
Filming until November 27th
For a full list of what's filming in Vancouver and British Columbia right now, check out our In Production page.
Wrapping Up This Week
If you see any of these productions, including Altered Carbon filming in Vancouver and British Columbia, be sure to let us know by tweeting us (@WhatsFilming) or via our Submit a Location page.