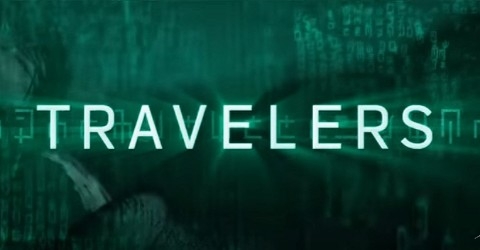 Travelers season 1 makes its Canadian premiere tonight at 9pm on Showcase. Check out a roundup of the cast, over 30 of the show's Vancouver area filming locations and a 9 minute sneak peek of episode 1 below.
Travelers is a joint venture between Canada's Showcase channel and Netflix. It was created and written by Brad Wright, a Toronto native who also created the Stargate franchise. The series follows a group of humans from the future who send their consciousness back through time. They take over the bodies and lives of people in the present day in order to save the world from a horrible outcome.
Travelers Season 1 Cast
The cast of Travelers Season 1 features a number of Canadian actors including Toronto's Eric McCormack (Will & Grace, Perception), Alberta's Patrick Gilmore (SGU Stargate Universe) and MacKenzie Porter (Hell on Wheels), and Manitoba native Jared Abrahamson (Awkward, Hello Destroyer). Here's a roundup of many of the cast via IMdB:
| Actor | Role | You may know them from |
| --- | --- | --- |
| Eric McCormack | Grant MacLaren | Perception, Will & Grace |
| MacKenzie Porter | Marc Warton | Hell on Wheels |
| Patrick Gilmore | David Mailer | The Cabin in the Woods, Gracepoint, SGU Stargate Universe |
| Nesta Cooper | Carly Shannon | Heroes Reborn, The Edge of Seventeen |
| Jared Abrahamson | Trever Holden | Awkward, Hello Destroyer |
| Reilly Dolman | Philip Pearson | Scarecrow, Flicka 2 |
| Leah Cairns | Kathryn Maclaren | Interstellar, 88 Minutes, Battlestar Galactica |
| J. Alex Brinson | Jeff Conniker | Supernatural |
| Dylan Playfair | Kyle | Some Assembly Required, Haters Back Off |
| William MacDonald | Gary Holden | Rogue, Slither |
| Jennifer Spence | Grace Day | You Me Her, Continuum |
| Kristine Cofsky | Officer Boyd | No Men Beyond This Point, In No Particular Order |
| Glynis Davies | Jacqueline Peele | Rogue, SGU Stargate Universe |
| Jason Gray-Stanford | Donner | |
| Yasmeene Ball | Role | Supernatural, The Tree That Saved Christmas |
Travelers Filming Locations
Travelers Season 1 filmed in Vancouver and area from March 29th to July 19th. The series was based out of the former Canada Post Building in downtown Vancouver which has become studio space for many productions in the area including The Romeo Section, Van Helsing, Dead Rising 2 and more. The show also spent a lot of time filming on location; primarily around downtown Vancouver, but they were occasionally spotted elsewhere.
Here's 32 locations where Travelers season 1 filmed around metro Vancouver:
100 Powell Street (Gastown, Vancouver)
1833 Collingwood Street (Vancouver)
3543 West 2nd Avenue (Vancouver)
199 East 17th Avenue (Vancouver)
3150 Main Street (Vancouver)
3543 West 2nd Avenue (Vancouver)
402 West Pender Street (Vancouver)
400-500 Block Richards Street and nearby alley (Vancouver)
600 Block Homer Street (Vancouver)
685 Hamilton Street (Vancouver)
505 Hamilton Street (Vancouver)
700 Vernon Drive near Adanac Street (Vancouver)
Britannia Shipyards (Steveston)
Cathedral Plaza (Vancouver)
China Creek North Park near Vancouver Community College (VCC) (Vancouver)
Dyke Road West of Gilbert Road, near Steveston (Richmond)
Easy Park at 160 Water Street (Vancouver)
200 West Hastings Street Alley (Vancouver)
Woodward's Plaza & Alley (Vancouver)
Former Canada Post Building (Vancouver)
Ironworks Studio on Alexander Street (Vancouver)
Lulu Island Wastewater Treatment Plant, Gilbert Road (Richmond)
Mountain View Cemetery (Vancouver)
Parkwell Plaza Parkade 655 Richards Street (Vancouver)
Red Rose Antiques on Street (Vancouver)
4367 Quebec Street (Vancouver)
Stoke's Pit, 196th Street and 28th Avenue (Surrey)
Train on Main and Main Street at 37th Street (Vancouver)
Vancouver Community College (VCC) Downtown Campus
Stadium Skytrain Station (Vancouver)
Vancouver Public Library (Vancouver)
Smile Cafe on West Pender Street (Vancouver)
City Centre Library (Surrey) via Rob in the comments below
Blieberger Farm (Langley)
Travelers Season 1 Sneak Peak
Be sure to check out the premiere of Travelers season 1 tonight at 9pm on Showcase channel in Canada. In the meantime, here's a 9+ minute sneak preview released earlier today by Showcase.
RELATED: Movies & TV Shows Currently Filming in Vancouver
Travelers Season 1 will premiere later this year anywhere Netflix is available.