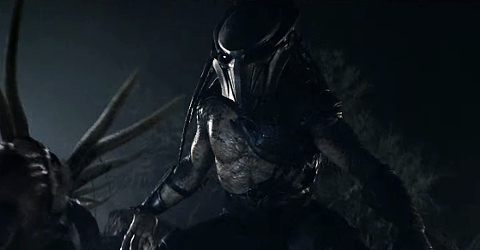 The next movie in the Predator franchise and new TNT TV pilot Let The Right One in from Teen Wolf showrunner Jeff Davis will be filming in Vancouver and British Columbia.
The Predator (aka Ollie) (Feature)
Shane Black is set to direct the film that will take audiences back to the Predator alien action movie franchise that first began in 1987. Shane is best known as the creator of the Lethal Weapon movie series as well as directing/writing the screenplay for Iron Man 3.
In an interview with Collider.com, Shane describes the script he and Fred Dekker wrote for The Predator as being part of the original mythos, as opposed to a reboot which many have speculated. Shane is very familiar with the Predator world, having played the role of Hawkins in the 1987 movie and also provided support and guidance to the rookie director John McTiernan.
As far as casting for The Predator, there hasn't been a lot of concrete details released so far. Originally, the studio had set Benicio del Toro as the lead, but he was since removed from the project due (in part) to scheduling conflicts. According to The Hollywood Reporter, Narcos star Boyd Holbrook is now in talks to replace del Toro.
Back in the spring, rumours also circulated that rapper Curtis Jackson aka "50 Cent" would be joining the cast. Curtis confirmed he was in talks to appear in the movie during a couple of interviews but there hasn't been much news since.
Despite not appearing in either the 1990 or 2010 Predator movies, many speculate that Arnold Schwarzenegger will return in some capacity to reprise his role as Dutch from the original. Arnold just recently finished filming Why We're Killing Gunther in Vancouver in August.
The Predator was originally scheduled to start filming in Vancouver and British Columbia October 17th through February 8th, 2017 with an expected release date of February 9th, 2018. However, it appears as though the film's production has been pushed back once again.
Update: It's now set for a February 20th, 2017 start date.
Let The Right One In (TV Pilot)
Teen Wolf showrunner Jeff Davis is adapting the 2004 best-selling novel Let The Right One as a TV pilot for TNT. The original story, written by John Ajvide Lindqvist, follows a young boy named Oskar. In this version of the story, the boy's name is Henry; a high school loner who is constantly being picked on and bullied by his classmates.
A new girl named Eli moves in next door to Henry and the two quickly become friends. Henry begins to notice there's something unique about Eli. What he doesn't know is she's actually a vampire who may be tied to a string of mysterious murders happening around his small hometown in Vermont.
Henry and Eli will be played by Benjamin Wadsworth (Dad vs. Lad) and newcomer Kristine Froseth respectively. They'll joined by Thomas Kretschmann (King Kong, Dracula), Kristoffer Joner (The Revenant), Necar Zadegan (Girlfriends' Guide to Divorce) and Cameron Gellman (20th Century Woman). Teen Wolf star Tyler Posey is also rumoured to be among the cast although it has not been confirmed by TNT.
The story was previously adapted as a movie by the same name starring Chloe Grace Moretz and Kodi Smit-McPhee which was released in 2010.
Let The Right One In will be filming in Vancouver and British Columbia until November 10th.
RELATED: TV Pilot Season in Vancouver 2016 Roundup
Also Starting This Week
Treasure Hound (Feature)
Filming until November 3rd
For a full list of what's filming in Vancouver and British Columbia right now, check out our In Production page.
Wrapping Up This Week
Sleigh Bells Ring (aka Runaway Sleigh) (TV Movie) with Erin Cahill, David Alpay, Robyn Bradley and Rhona Rees wraps up today in Abbotsford
Rogue – Season 4 (TV Series) with Cole Hauser, Thandie Newton, Sarah Jeffery, Ashley Greene, Richard Schiff and Sarah Carter wraps up October 19th
Siren (aka The Deep) (TV Pilot) with Ian Verdun, Eline Powell and Rena Owen wraps up October 21st
If you see any of these productions, including The Predator or Let The Right One In filming in Vancouver and British Columbia, be sure to let us know by tweeting us (@WhatsFilming) or via our Submit a Location page.