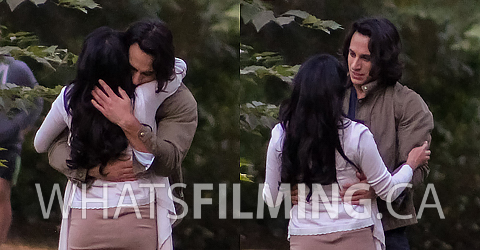 Jasmine and Aladdin (Karen David and Deniz Akdeniz) filmed scenes for Once Upon a Time Season 6 Episode 5 at Central Park in Burnaby back in August. Check out 20+ behind the scenes photos below.
Spoiler Warning! As with all set photos, there's always a possibility that a picture or something mentioned in this article could be considered a spoiler.
Once Upon a Time season 6 episode 5 is titled "Street Rats" and was directed by Norman Buckley. Although the episode was Norman's first of Once Upon a Time, he's well known for directing several episodes of Pretty Little Liars, Gossip Girl and The Fosters.
In July, ABC revealed that Once Upon a Time had cast Karen David (Galavant) and Deniz Akdeniz (Graceland) as Princess Jasmin and Aladdin respectively. This past Sunday we were first introduced to Princess Jasmine (aka Sharin) and in "Street Rats", we'll see the first time the destined lovers met, in Agrabah. According to the episode's official logline, Princess Jasmine enlists Aladdin to help free the city of Agrabah from the rule of the evil Jafar.
While the episode was filming back in August, the pair were together for a quick scene at Central Park in Burnaby. The scene was set along the edge of the Upper Pond, an area frequently used by the show. Both Jasmine and Aladdin were dressed in regular clothes suggesting a present-day scene set in Storybrooke. It appeared as though they were being reunited for the first time in a long while and were very excited to see each other. In fact, as Jasmine sat on a nearby park bench, she looked upset until Aladdin showed up and instantly brightened her mood.
Photos of Jasmine and Aladdin Filming Once Upon a Time Season 6 Episode 5
RELATED: Once Upon a Time Filming at Central Park in Burnaby
Check out Jasmine and Aladdin together in this preview for Once Upon a Time season 6 episode 5:
Enter a whole new world of magic and adventure. pic.twitter.com/7KIYqEDsCC

— Once Upon A Time (@OnceABC) October 19, 2016
Once Upon a Time season 6 episode 5 with Jasmine and Aladdin airs October 23, 2016 at 8pm on CTV in Canada and ABC in the US.