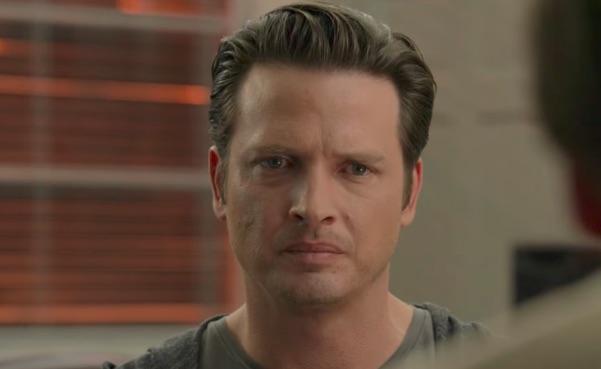 Elsewhere (Feature)
Elsewhere is an indie feature that's centred around a recently widowed man named Bruno. Although he's still mourning the loss of his beloved wife, his in-laws waste no time before kicking him out of the beautiful seaside cottage the two built together. Determined to do what it takes to get back what he feels is rightfully his, Bruno goes undercover as a repairman for the cottage's new tenant. At some point during his risky operation, Bruno's motivations and intentions begin to change.
According to The Hollywood Reporter, the well-rounded cast of the Elsewhere movie will include Aden Young (Rectify) as Bruno and Parker Posey (The House of Yes) as the cottage's new tenant. Parker just recently wrapped up her role as Dr. Smith in the new Lost in Space reboot series that filmed in Vancouver and area the first half of the year. They'll be joined by The Hangover star Ken Jeong as well as Beau Bridges (The Descendants), Jacki Weaver (Silver Linings Playbook) and Jackie Tohn (GLOW). Hernán Jiménez Garcia, a filmmaker from Costa Rica, is set to direct Elsewhere, which will be his first English movie.
Elsewhere will be filming in Victoria and British Columbia until October 11th and is expected to be released sometime in 2018.
With Love, Christmas (aka Secretly Santa) (TV Movie)
During this year's office "secret Santa", Melanie finds herself assigned to her crush, Donovan. Although the pressure is on, she's determined to find just the right gifts to win him over in the process; and it starts to work. Donovan begins to fall in love with his secret Santa, but there's just one problem. Someone else is taking the credit for the thoughtful gifts and love notes, and now Melanie has to convince Donovan that she's his true love.
The movie stars Emilie Ullerup (Chesapeake Shores, Signed Sealed Delivered) and Aaron O'Connell (The Haves and the Have Nots).
Here's a behind the scenes photo that Emilie shared on her Instagram:
With Love, Christmas continues filming in British Columbia until September 30th and will premiere on November 22nd at 8pm during this year's Countdown to Christmas on Hallmark Channel in the US.
Also Starting This Week
Fixer Upper Mystery 3 (TV Movie)
Cast: Jewel Kilcher
Filming in Victoria and area until October 3rd
For a full list of what's filming in Vancouver and British Columbia right now, check out our In Production page.
Wrapping Up This Week
The Christmas Train (TV Movie) with Dermot Mulroney, Kimberly Williams-Paisley, Joan Cusack, Danny Glover, Kirsten Prout and Anthony Konechny wraps up September 15th
Pup Star 3: World Tour (Home Video) with David DeLuise, Jed Rees, Makenzie Moss and Denisse Ojeda wraps up September 16th
I'm Not a Bad Person (Feature) wraps up September 16th
A Harvest Wedding (TV Movie) with Andrea Brooks and Merren McMahon wraps up September 16th
Dragged Across Concrete (aka X-Mas Bear) (Feature) with Mel Gibson, Vince Vaughn, Fred Melamed, Jordyn Ashley Olson, Tory Kittles, Laurie Holden and Jennifer Carpenter wraps up September 16th
If you see any of these productions, including Elsewhere and Secretly Santa filming in British Columbia, be sure to let us know by tweeting us (@WhatsFilming) or via our Submit a Location page.