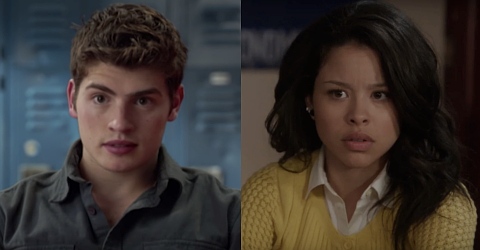 Lifetime's Drink Slay Love with Gregg Sulkin, Sweet Virginia and Imaginary Mary Season 1 start filming in Vancouver and British Columbia today.
Drink Slay Love (TV Movie)
After just wrapping up a role in Status Update with Ross Lynch last month, Gregg Sulkin (Wizards of Waverly Place) is back in BC to star in Lifetime's supernatural comedy Drink Slay Love. Gregg will star alongside alongside Cierra Ramirez (The Fosters) in the story which is based on the novel of the same name by Sarah Beth Durst.
It centres around Pearl, a 16 year-old humourous yet evil vampire who comes from a mafia-like family. After surviving what her family thinks was an encounter with a vampire hunter, Pearl discovers that she's able to face the sunlight without consequence. Her family decides to use her new abilities to help lure vulnerable humans into their house to feast on them.
After enrolling in high school, Pearl starts to become less evil and finds out she might even have a conscience. She eventually becomes too close with the humans who are supposed to be her prey. She ends up falling in love with one of the them and has to make the difficult decision of letting her family down or serving up her friends for dinner.
Drink Slay Love is being directed by Vanessa Parise. Vanessa directed the movie Perfect High with Bella Thorne here in British Columbia in 2015.
Update: According to Deadline.com, Bella Thorne will be co-producing the movie.
Other notable cast includes Angelique Rivera (American Crime) and Vancouver's own Jasmine Sky Sarin (Summer in the City).
Drink Slay Love will be based out of Vernon and is scheduled to film until September 11th for a premiere in 2017.
Sweet Virginia (Feature)
Fresh off the success of his debut feature, River, Canadian director Jamie Dagg's next project, Sweet Virginia, starts filming this week. Set in Alaska, the story is about a hotel manager who becomes friends with an out of towner. Little does he know, the out of towner is actually a hitman that ends up causing an outbreak of violence in the town.
Several cast members were announced today via Deadline.com. Jon Bernthal (Daredevil, The Walking Dead) will play the hotel manager and Christopher Abbott (Girls, Martha Marcy May Marlene) will portray the out of town hitman. They'll be joined by Imogen Poots (Roadies, Need For Speed), Rosemarie DeWitt (Cinderella Man, The Watch) and Odessa Young (Blood Pulls a Gun, Looking For Grace).
Sweet Virginia will be based out of Hope and will continue filming in British Columbia until October 30th.
Imaginary Mary – Season 1 (TV Series)
After filming its pilot in Vancouver from February 27th to March 7th of this year, Imaginary Mary season 1 starts production this week. The series is about a woman, named Alice, whose childhood imaginary friend named Mary resurfaces now that she's an adult. Alice is played by Jenna Elfman (Dharma & Greg). Stephen Schneider (Broad City) plays Ben, Alice's love interest.
Although Imaginary Mary is primarily a live-action series, Mary (who's voiced by Rachel Dratch) is added using CGI. Check out a first look of Alice and Mary revealed by ABC here:

Imaginary Mary will be filming in Vancouver and British Columbia until December 6th and it premieres as part of ABC's midseason lineup for 2016-2017.
Also Starting This Week
No Tomorrow – Season 1 (TV Series)
Filming until December 21st
When Calls the Heart – Season 4 (TV Series)
Filming until December 12th
Hailey Dean Mysteries: Murder in the Family (TV Movie)
Filming until September 11th
Each Precious Heartbeat (TV Movie)
Cast: Crystal Lowe, Kimberly Sustad, Emilie Ullerup, Jay Hindle, Sharon Lawrence and Kristoffer Polaha
Filming until September 12th
For a full list of what's filming in Vancouver and British Columbia right now, check out our In Production page.
Wrapping Up This Week
Why We're Killing Gunther (Feature) with Arnold Schwarzenegger, Cobie Smulders, Taran Killam and Elizabeth Bowen wraps up August 22nd
Who Killed JonBenét? (aka Jon Benet) (TV Movie) with Eion Bailey, Michel Gill, Julia Campbell and Payton Lepinski wraps up August 24th
He Loves You Not (TV Movie) with Steve Basic, Madison Smith and Cate Sproule wraps up August 25th
Okja (Feature) with Jake Gyllenhaal, Lily Collins, Tilda Swinton, Paul Dano, Devon Bostick, Shirley Henderson, Steven Yeun and Daniel Henshall wraps up August 27th
If you see any of these productions, including Drink Slay Love or Imaginary Mary filming in Vancouver and British Columbia, be sure to let us know by tweeting us (@WhatsFilming) or via our Submit a Location page.