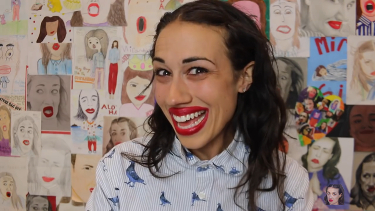 New Netflix series Haters Back Off with YouTube personality Miranda Sings set to begin filming in Vancouver and area in April.
She has over 5 million subscribers and over 1 billion views on her YouTube account, and now she has her own Netflix series: Haters Back Off. Miranda Sings is a character created and portrayed by Colleen Evans since 2008 when she first started posting videos of the character on YouTube.
If you've ever seen one of her videos, you'll know they can be painful to watch yet at times so horrible its funny. Her new show Haters Back Off will follow a similar theme. It will take a look into the life of Miranda Sings and her struggle to become the famous icon she believes she deserves to be.
Haters Back Off was developed in partnership between Collen and her brother Chris Ballinger along with Perry Rein and Gigi McCreery. The series currently has an 8 x 30 minute episode order from Netflix and will be produced by Vancouver's own Brightlight Pictures.
According to Deadline.com, Angela Kinsey (The Office, License to Wed) and Steve Little (Eastbound & Down, The Grinder) have been cast to play Miranda's mother and uncle respectively. Erik Stocklin (Stalker, Mistresses) is set to play Patrick, Miranda's neighbour and best friend.
Check out Miranda Sings in her recent appearance on The Tonight Show playing Pictionary with Jimmy Fallon, Martin Short and Seinfeld:

If you're interested in seeing her in person, she'll be making a stop at The Centre For The Performing Arts in Vancouver on Saturday, February 20th for her comedy tour. Go HERE for more info and tickets for that performance.
Haters Back Off will continue the trend of streaming giants flocking to Vancouver to film their original content. Amazon's The Man in the High Castle is returning to Vancouver to film its second season and another new Netflix's show A Series of Unfortunate Events is scheduled to start filming here on April 4th. Not to be outdone, Hulu is also looking at Vancouver for its new series Shut Eye.
See also:
Shut Eye From Hulu Eyes Vancouver As Possible Filming Location
Season 1 of Haters Back Off is scheduled to film in Vancouver from April 18th to May 30th and will premiere on Netflix October 14th.