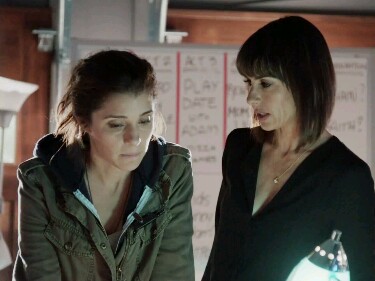 Reality TV parody series UnREAL set to return to Vancouver to film its second season starting in March 7, 2016.
If you didn't catch it's first season, UnREAL is a parody of what goes on behind the scenes of a reality TV show. It centres around a fictitious reality dating series called "Everlasting" which closely resembles The Bachelor. Although it may not be 'real' something about it will make you not be able to watch 'reality' shows the same way ever again.
The show got off to a great start with ratings and halfway through its first season, Lifetime picked it up for another season of 10 episodes. Writing for the second season started back in November and there's since been a lot of rumours surrounding the direction it will take going forward. Especially with the Rachel and Quinn storyline that had a significant spin during the season 1 finale.
Stars Shiri Appleby and Constance Zimmer will return to reprise their roles as the producers and master manipulators behind Everlasting. As reported by TV Line, B.J. Britt has signed on as Darius Hill, the suitor for season 2. B.J. is know for his roles in Marvel's Agents of SHEILD and Being Mary Jane.
Other new faces include Michael Rady (Jane The Virgin) and Gentry White (Turn: Washington's Spies) and contestants Monica Barbaro (Hawaii Five-O) and Denée Benton. On March 7th, Entertainment Weekly announced that Bruce Davison (X-Men, Knight Rider), Christopher Cousins (Breaking Bad, Glee) and Lindsay Musil (MTV's Scream reboot) had also been cast for UnREAL Season 2.
Check out this trailer from the first season to give you an idea of what the show is all about:

In season 1 they spent large portion of their time filming at a residence in Surrey which was meant to resemble the mansion used in The Bachelor. For this season they've built what appears to be the same house on a soundstage at Canadian Motion Picture Park's Backlot property in Burnaby. They may still return to film on-location at the house in Surrey for scenes that aren't possible using their soundstage replica.
See also:
UnREAL Season 2 is scheduled to film until June 16th and is expected to premier this summer – just in time for The Bachelorette? Keep a look out for UnREAL season 2 signs 'UNP' around the Vancouver area and let is know if you see them!