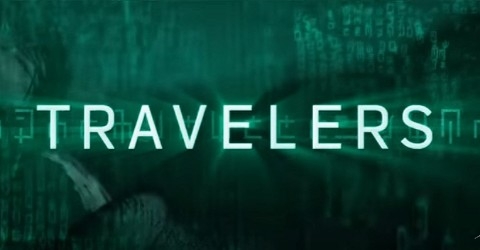 Netflix/Showcase series Travelers season 2 with Eric McCormack and Anthem starring Cameron Monaghan and Peyton R. List start filming in Vancouver and British Columbia this week.
Travelers – Season 2 (TV Series)
After a very well received first season, Travelers season 2 starts filming in Vancouver and area today. The series is a joint venture between US-based streaming giant Netflix and Showcase in Canada.
The series is centred around a group of individuals who send their consciousness back in time and assume the body and lives of people in the past in order to save the future. Travelers season 2 picks up where they left off and focuses on the unexpected impacts the team's previous missions may have had on their future.
Emmy Award winning actor Eric McCormack (Will & Grace) stars as Grant MacLaren, the team leader. He's joined by Alberta-born actress and musician Mackenzie Porter (Hell on Wheels) as the team's doctor, Marcy Warton. Rounding out the rest of the all-Canadian main cast are Patrick Gilmore (SGU Stargate Universe), Jared Abrahamson (Awkward.), Nesta Cooper (The Edge of Seventeen) and Reilly Dolman (Percy Jackson & the Olympians: The Lightning Thief) who play David Mailer, Trevor Holden, Carly Shannon and Philip Pearson respectively.
The show's first season consisted of 12 x 1 hour episodes. It appears that Travelers season 2 is currently expected to be the same as the filming schedule lines up nearly identically.
Travelers season 2 will be filming in Vancouver and British Columbia until July 28th and is currently slated to premiere in the fall on Showcase followed by a global release on Netflix later in the year.
RELATED: Travelers Season 1 Sneak Peak, Cast and Vancouver Filming Locations
Anthem (Feature)
Anthem is based on the popular young adult novel Anthem of a Reluctant Prophet by Joanne Proulx. The story revolves around a high school druggie named Luke. One night while getting high, Luke has a vision that his new friend Stan will die after being hit by a car.
In a similar fashion to the premise of the Final Destination movies, Luke continues to predict the deaths of those around him. After being cast out by everyone around him, Luke turns to the only one who continues to be there for him; his girlfriend Faith. After being struck with vision of his best friend Fang's death, Luke has to find a way to rise above all the negativity that surrounds him in order to save him.
Gotham/Shameless star Cameron Monaghan is set to play Luke and Peyton R. List (Jessie, Bunk'd) will play Faith. According to the film's IMDb page, Alex Macnicoll (Transparent) and Grayson Gabriel (Dirk Gently) play Stan and Fang respectively.
Anthem is being produced by Vancouver's Sepia Films and will be filming in Kelowna and British Columbia until April 15th. Thanks to @lemon_buzz who broke the news that Anthem would come to BC to film!
Also Starting This Week
The Art of Us (TV Movie)
Filming until April 13th
Cast: Ken Tremblett, Katerina Katelieva
Love by the Book (TV Movie)
Filming until April 13th
Marry Me at Christmas (TV Movie)
Filming until April 13th including some time in Revelstoke
Bridal Bootcamp (TV Movie)
Filming until April 20th
For a full list of what's filming in Vancouver and British Columbia right now, check out our In Production page.
Wrapping Up This Week
Girlfriends' Guide to Divorce – Season 5 (TV Series) with Lisa Edelstein, Beau Garett, Necar Zadegan, Alanna Ubach and Will Kemp wraps up March 27th
Sleepwalking in Suburbia (TV Movie) with Jason Schombing wraps up March 30th
Once Upon a Time – Season 6 (TV Series) with Ginnifer Goodwin, Jennifer Morrison, Lana Parrilla, Josh Dallas, Jared Gilmore, Robert Carlyle, Emilie de Ravin and Colin O'Donoghue was supposed to wrap up March 31st, however EP Josh Horowitz claims it will continue past that (thank you @Canadagraphs for the info!)
Light Of My Life (Feature) with Casey Affleck and Anna Pniowsky wraps up March 31st
Tiny Christmas (TV Movie) with Graeme McComb wraps up March 31st
The Crossing (TV Pilot) Steve Zahn, Sandrine Holt, Rob Campbell, Jay Karnes, Simone Kessell, Grant Harvey, Kelley Missal, Maddie Phillips and Marcuis W. Harris wraps up March 31st
Reverie (TV Pilot) with Dennis Haysbert, Sarah Shahi, Jessica Lu, Sendhil Ramamurthy and Kathryn Morris wraps up April 1st
If you see any of these productions, including the Love Finds Its Way filming in Vancouver and British Columbia, be sure to let us know by tweeting us (@WhatsFilming) or via our Submit a Location page.