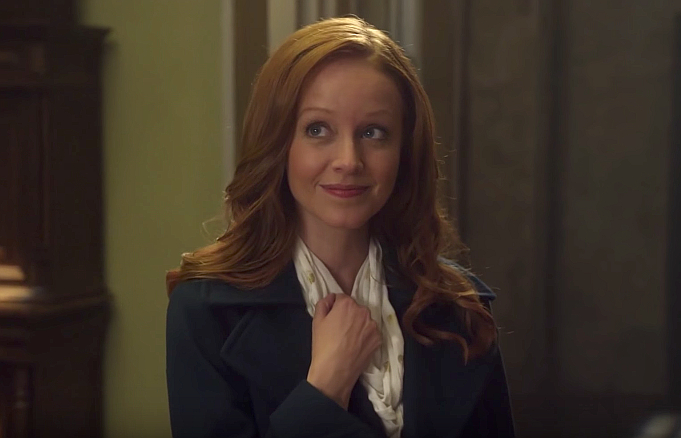 Rocky Mountain Christmas (aka Unbridled Love) (TV Movie)
Following the death of an aunt, Sarah returns home to her Uncle's farm for the holidays. Although she was hoping to find comfort in her family's Christmas traditions, her uncle's plan is to avoid them altogether. In the midst of their tension, a handsome hollywood star named Graham comes knocking, looking to use the farm as research for his next movie. It takes some wooing for Graham to convince Sarah to let him use the property, but as he begins his work, Sarah finds herself in love with Graham. Between her family struggles and her new romance with Graham, Sarah winds up with a Christmas she'll never forget.
Rocky Mountain Christmas stars Oakville, Ontario native Lindy Booth (Dawn of the Dead, The Librarians), Kristoffer Polaha (Where Hope Grows, Get Shorty) and Treat Williams (Chesapeake Shores, Chicago Fire).
Rocky Mountain Christmas will continue filming in Vancouver and British Columbia until November 22nd and will premiere less than a month later; December 16th on Hallmark Movies & Mysteries in the US.
Royal New Year's Eve (TV Movie)
Caitlyn is a struggling fashion designer who's recently met a handsome man named Jeff. Under the impression that Jeff is a likewise struggling model, Caitlyn begins to grow fond of him. She's then given a once in a lifetime opportunity to design a New Year's Eve ballgown for Lady Isabelle. The problem is, she soon realizes that Lady Isabelle's boyfriend, Prince Jeffrey, is actually the not-so-struggling Jeff. In a very royal manner, Jeff must wed Lady Isabelle in order to secure his spot on the iron throne.
If things weren't awkward enough, Caitlyn and Jeff being forced to work together to plan the ball. The romance between the pair begins to grow as Caitlyn shows Jeff some of the things he's missed out on by being brought up as a royal. Along the way, Jeff reveals that he's only getting engaged out of respect for his country, but it's not what or who he really wants.
An early visit from King Richard, and a rival fashion designer's efforts to sabotage the event nearly send Caitlyn spiralling out of control. Their only hope is to let true love prevail.
Royal New Year's Eve stars Jessy Schram (Nashville) and Sam Page (Self/less). Jessy is a veteran when it comes to filming in Vancouver. She's spent a lot of time in the area for Falling Skies and Once Upon a Time where she portrayed Ashley Boyd/Cinderella as recently as last year. Hallmark fans will recognize Sam from All Things Valentine, which also filmed in Vancouver and area.
Royal New Year's Eve will continue filming in Vancouver and British Columbia until November 18th and will premiere December 30th at 8pm on the Hallmark Channel in the US as part of its Countdown to Christmas series.
Also Starting This Week
Morning Show Murders (TV Movie)
Based on the book The Morning Show Murders by Al Roker and Dick Lochte
Cast: Holly Robinson Peete
Filming until November 18th
A Father's Nightmare (TV Movie)
Cast: Jessica Lowndes
Filming in Kelowna and area until November 17th
For a full list of what's filming in Vancouver and British Columbia right now, check out our In Production page.
Wrapping Up in British Columbia This Week
You Me Her – Season 3 (TV Series) with Greg Poehler, Rachel Blanchard and Priscilla Faia wrapped up on October 29th
Past Malice: An Emma Fielding Mystery (TV Movie) with Courtney Thorne-Smith and Gelsea Mae wrapped up on October 30th
Christmas Cottage (TV Movie) with Merritt Patterson, Steve Lund, Brittney Wilson, Victor Zinck, Carey Feehan, P. Lynn Johnson, Laurie Paton, Wendy Abbott, Mark Brandon and Natalie Gibson wrapped up on October 30th
Christmas Getaway (TV Movie) with Bridget Regan, Travis Van Winkle and Dan Payne wraps up on November 3rd
Last Scene Alive (Aurora Teagarden 7) (TV Movie) with Candace Cameron Bure, Miranda Frigon, Peter Benson, Robin Dunne and Farrah Aviva wraps up today
The Arrangement – Season 2 (TV Series) with Christine Evangelista, Josh Henderson, Michael Vartan, Ruffin Prentiss, Lexa Doig and Jacob Artist wrapped up October 31st
If you see any of these productions, including Rocky Mountain Christmas or A Royal New Year's Eve filming in Vancouver and British Columbia, be sure to let us know by tweeting us (@WhatsFilming) or via our Submit a Location page.