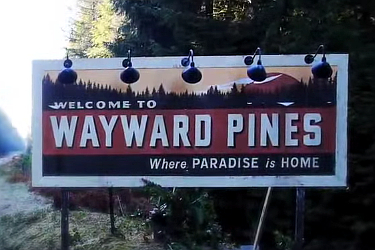 It's been just over 2 years since Season 1 wrapped production, but today the mysterious Fox event series Wayward Pines Season 2 begins filming in Vancouver.
After becoming the top broadcast scripted series among Adults 18-49 last summer, production starts today on its second season. In case you missed the epic first season, the series is based on Blake Crouch's best-selling book series. It's about a small town built in the middle of nowhere to protect the human race against an unknown species of alien-like creatures.
Season 2 will be another 10 episode arc that picks up in the wake of where season 1 left off. As the locals continue to find ways to stay safe and protected, there's a new person among them who has to figure out what the mysterious town of Wayward Pines is all about. Stepping into the leading role is Jason Patric (The Lost Boys, In the Valley of Elah) who plays Dr. Theo Yedlin.
During production of the first season, the show built a custom set in Agassiz, BC (about 1.5 hours East of Vancouver) which was where they shot the exterior town scenes. The set was disassembled shortly after and won't be returning to Agassiz for season 2. Over the past several weeks, set builders have been hard at work bringing the small town facades back to life at the Canadian Motion Picture Park Backlot in Burnaby.
The finishing touches were being done yesterday, and we got a couple pictures of the new set which you can see here.

If you saw the first season, you'll notice at least a couple of the buildings look familiar. In particular, the building that was used as the Wayward Pines Hotel. When Wayward Pines Season 2 airs, you may recognize some of the buildings from other productions as well. The backlot was originally built for the 2009 movie Watchmen and has been recently used by Arrow, iZombie and Legends of Tomorrow. In fact, it was used heavily in last week's episode of Legends of Tomorrow titled "Star City 2046".
Several new cast members have signed on for Wayward Pines Season 2, here's a roundup of who we know of so far:
| Actor | Role | You may know them from |
| --- | --- | --- |
| Jason Patric | Dr. Theo Yedlin | The Lost Boys, In the Valley of Elah |
| Djimon Hounsou | CJ Mitchum | Gladiator, Guardians of the Galaxy |
| Josh Helman | Xander | Mad Max: Fury Road, X-Men: Days of Future Past |
| Nimrat Kaur | Rebecca Yedlin | Homeland, The Lunchbox |
| Kacey Rohl | Kerry Campbell | Red Riding Hood, Hannibal, The Magicians |
Chris Hodge who served as the showrunner for the first season won't be returning. In his place is Mark Friedman. Vancouver's own Shawn Williamson will serve as Executive Producer.
Check out the trailer for the first season of Wayward Pines here:

See Also:
Wayward Pines Season 2 will be filming in Vancouver and area until June 24th and will premiere on May 25th on Fox. Keep an eye out for their production signs around Vancouver with the code BLP. If you see Wayward Pines Season 2 filming, be sure to let us know by tweeting us (@WhatsFilming) or via our Submit a Location page.