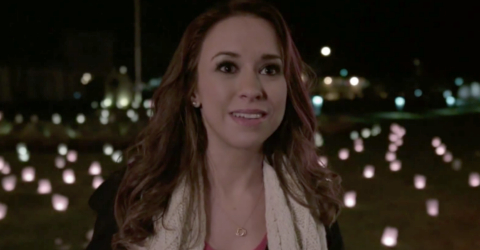 This week 2 more Hallmark Christmas movies, A Wish For Christmas and Operation Christmas, start filming in Vancouver and British Columbia along with indie feature Hot Street.
Every year, local film crews have the challenge of transforming our beautiful spring and summer landscape into a frigid winter wonderland to serve as the backdrop for the many Christmas movies that will premiere later in the year. Although storyline details are scarce, here's what we know so far.
A Wish For Christmas (TV Movie)
Hallmark's A Wish For Christmas starring Lacey Chabert starts filming tomorrow. Lacey is best known for her role as Gretchen Wieners in the 2004 movie Mean Girls and her role as Claudia Salinger on the popular 90s TV series Party of Five. Lacey is no stranger to filming Christmas movies in the Vancouver area having filmed The Tree That Saved Christmas (2014) and Family for Christmas (2015) in the region. Paul Greene (Somewhere, A Perfect Wedding) is set to star alongside Lacey. Paul starred in Hallmark's A Christmas Detour with Candace Cameron Bure (Full House, Aurora Teagarden) which filmed in and around Langley last year. A Wish For Christmas will be filming in Vancouver and British Columbia until May 15th.
Operation Christmas (TV Movie)
Filming of Hallmark's Operation Christmas which stars Vancouver-born actress Chelan Simmons (Tucker and Dale vs. Evil, The L.A. Complex) started today at the Fairmont Chateau Whistler hotel. Chelan plays a pregnant woman named Becky Fowler. Check out a few pictures of the decorations that were setup inside the beautiful hotel thanks to @ceomcmum on Twitter.
Operation Christmas will be filming in British Columbia until May 13th.
The Christmas movie filming season actually began in mid-February with A Snow Capped Christmas starring Niall Matter (Watchmen, Remedy), Lochlyn Munro (Riverdale, Lucifer), Leah Renee (Love by the Book, Satisfaction), Michael Teigen (TRON: Legacy, Good Luck Chuck) and Gracyn Shinyei (Phil).
The Last Christmas with Jill Wagner (Teen Wolf), Chelsea Reist (The 100), and P. Lynn Johnson (50/50) filmed throughout April including some scenes at the Princess & The Pea B & B in Murrayville, Langley. @chefbk11 snapped a great pic of their elaborate set decorations.
Also Starting This Week
Hot Street (Feature)
Hot Street is an indie feature about a group from China who has just moved to Canada. The group finds their sense of belonging through dance. Hot Street will be filming in Vancouver and British Columbia until May 24th.
For a full list of everything that's filming in Vancouver and British Columbia right now, check out our In Production page.
Wrapping Up This Week
Wedding Bells (TV Movie) with Danica McKellar, Kavan Smith, Tammy Gillis, Christopher Russel, James Challis, Daniel Bacon and Bruce Boxleitner wraps up April 25th
Bad Date Chronicles (TV Movie) with Merritt Patterson, Lanie McAuley, Gina Holden and Matt Bellefleur wraps up April 29th
Ms Matched (TV Movie) with Alexa PenaVega, David Lloydy, Chiara Zanni, Dario Giordani, Paula Giroday and Elise Gatien wraps up April 29th
The Plateau (Feature) with Dan Payne, Robin Dunne, Daniel Cudmore wraps up April 29th
If you see any of these productions, including A Wish For Christmas filming in Vancouver and British Columbia, be sure to let us know by tweeting us (@WhatsFilming) or via our Submit a Location page.