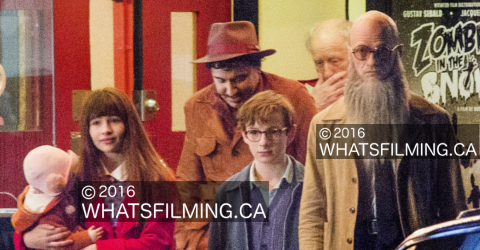 A Series of Unfortunate Events filmed scenes with Neil Patrick Harris as Stephano, Aasif Mandvi as Uncle Monty and Patrick Warburton as Lemony Snicket at the former Hollywood Theatre in Vancouver's West Side. Check out some photos below.
A Series of Unfortunate Events is based on the best-selling book series written by Daniel Handler (aka Lemony Snicket). The story revolves around the Baudelaire children whose custody is given to Count Olaf after their parents die in a mysterious fire. The children set out to discover the truth behind their parents passing and protect their family fortune while Count Olaf has many hidden agendas up his sleeve.
In the 2004 movie adaptation, Jim Carrey played the iconic Count Olaf. This time around, How I Met Your Mother star Neil Patrick Harris plays the devious villain.
For these scenes the former Hollywood Theatre was transformed into 'Murnau Cinema'. Many of the main cast were on set including Aasif Mandvi (Uncle Monty), Patrick Warburton (Lemony Snicket), Neil Patrick Harris (Count Olaf), and 2 of the Baudelaire children Malina Weissman (Violet) and Louis Hynes (Klaus). If you watch Supergirl, you'll recognize Malina as Kara's younger self.
Uncle Monty, Violet and Klaus arrived at the Cinema along with the evil Count Olaf, who was disguised as Stephano with a long beard, glasses and a bald head. Uncle Monty was outfitted with a unique red coat, matching top hat and moustache. After a quick interaction with the ticket clerk, the group entered the theatre. Some of the theatre interiors were filmed earlier in the week at The Cultch Theatre in East Vancouver.
Lemony Snicket, who was dressed in a suit, appeared alone outside the theatre to film a narrative later in the evening.
Photos of Neil Patrick Harris, Aasif Mandvi, Patrick Warburton, Malina Weissman & Louis Hynes filming A Series of Unfortunate Events
See also:
Movies and TV Shows Currently Filming in Vancouver
A Series of Unfortunate Events with Neil Patrick Harris, Aasif Mandvi and Patrick Warburton will continue filming in Vancouver and area until August 12th and is expected to be released on Netflix in August.