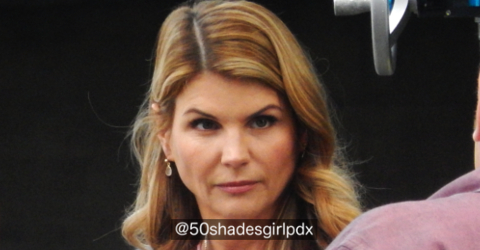 Hallmark's Garage Sale Mystery: The Art of Murder filmed scenes with Full House star Lori Loughlin outside of Ironworks Studio in Vancouver on June 2nd. Check out some photos below.
Garage Sale Mystery: The Art of Murder is the 7th installment in the Hallmark original series starring Lori Loughlin (Full House, When Calls the Heart). The story follows Jennifer Shannon (Loughlin) who is an avid antiquer with a knack for discovering items that have more to them than meet the eye. Jennifer's natural ability/desire to solve any problem becomes her local police department's greatest asset as she unravels the truth behind suspicious crimes around town.
Thus far the series has been a huge success story for Hallmark. The most recent installment, Garage Sale Mystery: The Novel Murders just aired this past weekend, on June 5th. The premiere had 1.1 million total viewers making it Hallmark's 2nd highest-rated TV movie and 2nd most-watched original movie debut of all time.
All of the movies in the Garage Sale Mystery franchise have filmed in and around the Vancouver area over the last 3 years. On June 2nd, the series filmed scenes outside of Vancouver's Ironworks Studio (Burrard Ironworks) on Alexander Street. Fake police and paramedics were on set alongside Lori Loughlin as Jennifer Shannon. The following day, filming continued inside of the Ironworks Studio.
A big thank you to @50shadesgirlpdx for capturing some great shots of Lori and the action on the set.
Photos of Garage Sale Mystery: The Art of Murder filming at Ironworks Studio in Vancouver
Ironworks Studio/Burrard Ironworks is a popular filming location between downtown Vancouver's Gastown and Railtown districts. The location has been used recently by The Flash, Beyond and The Wedding March and has also been used for Fifty Shades of Grey in the past.
See also:
Vancouver and British Columbia Filmed Hallmark Movies
Garage Sale Mystery: The Art of Murder finished filming on June 3rd but we haven't seen the official release date confirmed.