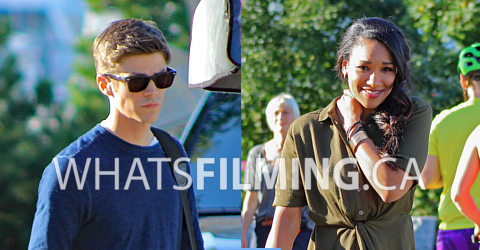 On July 20th, Vancouver's Olympic Village was transformed into Central City for The Flash season 3 episode 2 with Grant Gustin & Candice Patton. Check out some behind the scenes pictures below.
While we were there, a scene was being filmed on the Seawall close to the Canoe Bridge. Grant Gustin (Barry Allen), Candice Patton (Iris West) and Jesse L. Martin (Joe West) were all on set. This day was also Harry Potter star Tom Felton's first day working on the show, but he wasn't there while we were. In June, The CW announced that Tom had been added to The Flash in a series regular role playing a Central City Police Department CSI named Julian Dorn.
Surrounded by Central City police cars, Grant Gustin arrived on set and was dressed as CSI Barry paired with some cool RayBan sunglasses. He entered the scene, exchanged dialogue with Joe and assessed the crime scene with Iris nearby. It will be interesting to see how Barry's decision during the season 2 finale will impact his relationship with Iris. During The Flash panel at ComicCon, it was revealed that one of the impacts is that Barry is no longer part of the West family. According to Grant Gustin, the 'Flashpoint' arc won't last all season, but it will have some permanent consequences.
How do you think the West Allen relationship will unfold this season? Let us know in the comments below!
Photos of Grant Gustin Filming The Flash Season 3 Episode 2
See also:
The Flash will continue filming in Vancouver and area until April 21st, 2017; if you spot them filming, be sure to let us know via our Submit a Location page. The Flash season 3 episode 2 is expected to air on Tuesday, October 11th at 8pm on The CW in the US and CTV in Canada.