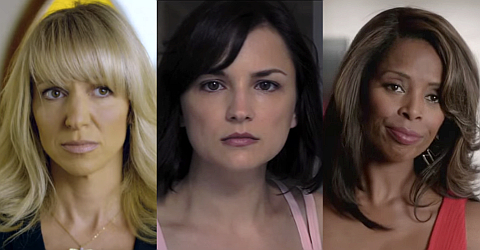 Hallmark has announced its next original movie event, "Summer Nights", which features 3 movies that filmed/are filming in Vancouver and British Columbia. Here's an overview of the premiere dates, storyline and filming locations for Summer in the City, Summer Love and Summer of Dreams.
Summer in the City (aka Managing Manhattan)
Under the working title of "Managing Manhattan", Summer in the City filmed in the Vancouver area from May 29th to June 17th. The story follows Taylor as she adjusts to a new life in New York after being given a once in a lifetime chance to manage a prestigious clothing store.
As Taylor finds herself in over her head with the pressures of running the store and living in the big city, she meets Philip, a single realtor. She struggles to balance her work life and social life while putting everything she's worked so hard to achieve at risk.
Summer in the City Cast
Cast includes Julianna Guill (Girlfriend's Guide to Divorce, Crazy Stupid Love), Marc Bendavid (Dark Matter), Vivica A. Fox (Empire, Kill Bill), Natasha Henstridge (Beauty and the Beast, She Spies) and Marla Sokoloff (Dude Where's My Car).
Summer in the City Filming Locations
Summer in the City spent a lot of time filming around downtown Vancouver; a very common stand-in for New York City.
Here are some of their filming locations:
Virani Real Estate, 1280 West Pender Street
2649 Quebec Street
L'Hermitage Hotel, 788 Richards Street
Romano's Pizza, 902 Granville Street
Blenz Coffee, 999 Granville Street
900 Block Granville Street
700 Block Howe Street
Stanley Park – various locations including Lost Lagoon Bridge area
The Connaught, 2404 Guelph Street (Mount Pleasant neighbourhood)
The Granville Room, 957 Granville Street
Zebraclub Vancouver, 3101 Granville Street
Kensington Place, 1386 Nicola Street
Summer in the City premieres Saturday, August 13th at 9pm.
Summer Love (aka Summer Intern)
Maya, a single mom who has decided to go back to school, becomes an intern with a technology group that develops apps. She finds herself in a world reliant on technology for everything; whether it's school, work or even love. Maya decides that when it comes to love, it's time for that to change.
Summer Love Cast
Perception/She's All That/Josie and the Pussycats star Rachael Leigh Cook plays Maya. She's joined by Travis Milne (Rookie Blue) who plays Will and Crystal Balint (Prison Break Reboot, MECH-X4) who plays Crystal. Lucas Bryant (Haven) is also part of the project but his role is unknown at the moment.
Summer Love Filming Locations
Summer Love has spent the majority (if not all) their time filming in the Squamish area of British Columbia. A couple of their key locations include Quest University and a home on Skyline Drive which is used as the interior and exterior of Maya's house. The lobby of the former Nokia Building in Burnaby's Glenylon Business Park was transformed into "K!ZZM!T" near the near the end of production. Thanks Eric for pointing out the name!
Summer Love is scheduled to continue filming in British Columbia until July 15th and will premiere Saturday, August 20th at 9pm.
Summer of Dreams (aka Relevant/Song of Summer)
Summer of Dreams follows a former 80's pop star named Debbie Taylor. Ironically the character is played by a former pop star, Debbie Gibson. In the movie, Debbie is determined to return to the spotlight only to find out her record label doesn't have the same plans in mind.
After leaving the Big Apple to settle down in Youngstown, Ohio, Debbie finds herself taking on a position as a substitute music teacher in a local school. During her struggle to win over her students, Debbie finds a connection with the school's guidance counsellor, Noah.
Summer of Dreams Cast
Appearing alongside Debbie is Robert Gant, who plays Kara's father (Zor El) on Supergirl and Jacqueline Samuda (The L Word). The movie also features several Vancouver/BC based actors including Pascale Hutton (When Calls the Heart), Ken Tremblett (White Hot, Unleashing Mr. Darcy) and up and coming actress/singer/dancer Zenia Marshall.
Summer of Dreams Filming Locations
Song of Summer spent the a lot of their time filming in Maple Ridge. They filmed at Thomas Haney Secondary School for several days, were spotted at Chameleon Restaurant as well as a private residence in the area. They filmed at Malik Media Studio in Langley and were spotted in Fort Langley as well.
Summer of Dreams filmed from June 13th to June 30th and will premiere on Saturday, August 27th at 9pm.
See also:
Hallmark Channel Content Filming in Vancouver and British Columbia
Don't miss Hallmark's Summer Nights movie series including Summer in the City, Summer Love and Song of Summer.