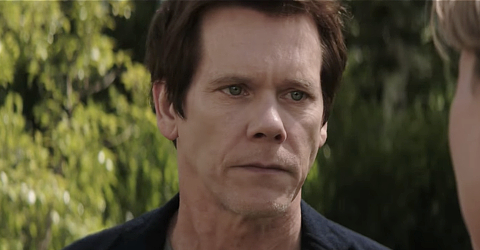 Kyra Sedgwick directs Story of a Girl, a Lifetime movie starring Kevin Bacon which starts filming in Vancouver and British Columbia this week.
Story of a Girl (TV Movie)
Kyra Sedgwick, is set to make her directorial debut on Story of a Girl which starts filming in Vancouver this week. Kyra is best known for her role as Brenda Leigh Johnson on the TV series The Closer, but fans of Brooklyn Nine-Nine will also recognize her as Madeline Wuntch.
Story of a Girl is a Lifetime TV movie starring Kyra's husband, Kevin Bacon (Footloose, The Following). It's based on the 2007 young adult novel of the same name written by Sara Zarr. The screenplay was adapted by Laurie Collyer and Emily Bickford Lansbury.
The story follows Deanna, a 13-year-old girl dealing with the fallout after a video of her having sex with her brother's best friend, Tommy, is shared online. After the video goes viral, the story gives a glimpse into the unfortunate reality of the bullying and labelling that is all too common in schools today. As if that isn't already enough to deal with, Deanne's life at home isn't any better; her father is still furious about the incident and has all but disowned her. Despite everything that's going on, Deanne has to find a way to move past her mistakes and stop letting them define her.
Kevin Bacon will plays Michael, Deanna's boss and confidant. Deanna will be played by Ryann Shane (Lights Out, Banshee). According to IMdB.com, British Columbia born actor Tyler Johnston (Grand Star, Less Than Kind) is set to play Tommy. You may recognize Tyler from his appearances in several episodes of The Killing, Supernatural or the upcoming series Shut Eye which just wrapped production of its first season last month. In addition to Tyler, it's great to see that the movie has several Canadian actors signed on for various roles. Many of which you'll recognize from other productions filmed in Vancouver. Here's a roundup of the rest of the cast thanks in part to the movie's IMdB page:
| Actor | Role | You may know them from |
| --- | --- | --- |
| Kevin Bacon | Michael | Footloose, The Following |
| Ryann Shane | Deanna | Lights Out, Banshee |
| Sarah Grey | | Legends of Tomorrow, The Wedding March |
| Tyler Johnston | Tommy | Grand Star, Less Than Kind |
| Caroline Cave | Debbie Lambert | Saw VI, One Week, Power Rangers, Dirk Gently |
| Andrew Herr | Jason | Mostly Ghostly 3: One Night in Doom House, Big Fat Liar 2, Status Update, Rememory |
| Alison Wandzura | Fran Johnstone | Bluff, The Runner, Van Helsing |
| Katerina Katelieva | Jiffy | Halo 4: Forward Unto Dawn, The Memory Book, Evangeline |
| Maddie Phillips | Corvette Kelly | Backstrom, Supernatural, Nightwing: Prodigal |
| Zachary Gulka | Brad | Summer Love, Supernatural, You Me Her |
| Nelson Leis | John | The Jim, Evangeline, Bad Seeds |
| Tyler Burrows | Jim | Untold Stories of the ER |
| Gavin Langelo | Tucker | |
Kevin Bacon shared a photo of himself having dinner with Kyra and the cast of Story of a Girl:
Cast dinner kicking off #StoryOfAGirl with my director @kyrasedgwick pic.twitter.com/HrGq5F23A6

— Kevin Bacon (@kevinbacon) September 10, 2016
Ryann Shane (who plays Deanna) shared a behind the scenes pic yesterday during their first day of filming:
Thank you to @lemon_buzz for the first news that Story of a Girl would be coming to Vancouver to film.
Story of a Girl will be filming in Vancouver and British Columbia until October 11th and will premiere in 2017. Update 3/22/2017: Story of a Girl will premiere July 23rd on Lifetime.
Also Starting This Week
Christmas List (aka Christmas Bucket List) (TV Movie)
After planning the perfect Christmas getaway with her boyfriend, Isobel creates a 'Christmas Bucket List' of holiday traditions and plans the perfect getaway at a cottage for her and her boyfriend. Despite all her efforts, Isobel finds herself alone. As she struggles to complete the items on her bucket list on her own, she stumbles into a new romance that could give her the Christmas she wanted after all. Notable cast includes Alicia Witt (Nashville) and Gabriel Hogan (Heartland, Murder She Baked). This is the second Hallmark Christmas movie that Alicia and Gabriel have starred in together, after 2014's Christmas at Cartright's. Christmas Bucket List will be filming until September 30th and premieres November 25th at 9pm on Hallmark Channel in the US.
Rose Parade New Year (TV Movie)
Building floats for the Pasadena Rose Parade is something that has run in Andy's family for generations. This year, there's a setback when Andy's father, who supervises the production, becomes ill and Andy is forced to take over. Little does she know, she'll working alongside Cliff who she doesn't see eye to eye with. Andy is a talented artist, while Cliff is a business man. Despite their differences, the two work together to rally the volunteers to get the float ready in time for New Year's. Andy will be played by Rachel Boston (Stop the Wedding, Witches of the East End, 500 Days of Summer). She'll be joined by Marc Bendavid (Summer in the City, Dark Matter). Rose Parade New Year will be filming in Victoria and area until September 30th and will premiere on New Years day 2017 at 9pm on Hallmark Channel in the US.
Angel In Training (aka Christmas Angel In Training) (TV Movie)
After her sudden death, a hardworking young woman finds herself in training to become a 'Christmas Angel' in Heaven. She may be the worst angel ever, but she finds herself helping someone who's had an unfortunate past. Along the way, she ends up learning a lot about the true meaning of Christmas, and love. So far the only casting announcement we've heard of is Vancouver's own Kate Isaac. Kate has appeared in several Vancouver-based productions including Motive, Cedar Cove and the remake of the movie Beaches, which wraps up this week. Angel In Training will be filming until October 6th.
Bates Motel – Season 5 (TV Series)
Cast: Freddie Highmore, Vera Farmiga, Max Thieriot, Olivia Cooke, Nestor Carbonell, Robyn Rihanna Fenty (Guest)
Filming until January 24th
For a full list of what's filming in Vancouver and British Columbia right now, check out our In Production page.
Wrapping Up This Week
Hailey Dean Mysteries: Murder in the Family (TV Movie) with Kellie Martin, Cindy Busby, Lucia Walters, Giacomo Baessato and Jesse Moss wrapped up September 11th
Drink, Slay, Love (TV Movie) with Cierra Ramirez, Gregg Sulkin, Angelique Rivera and McKaley Miller was scheduled to wrap up September 11th, but filming continues in Vernon today
Each Precious Heartbeat (TV Movie) with Crystal Lowe, Kimberly Sustad, Emilie Ullerup, Jay Hindle, Sharon Lawrence and Kristoffer Polaha wraps up today
Live Like Line (Feature) with Helen Hunt, Erin Moriarty, Danika Yarosh, William Hurt, Tiera Skovbye, Lillian Doucet-Roche, Natalie Sharpe and Rebecca Staab wraps up September 13th
Wonder (Feature) with Julia Roberts, Owen Wilson, Jacob Tremblay, Noah Jupe and Sonia Braga wraps up September 13th
Beaches (TV Movie) with Idina Menzel and Nia Long wraps up September 15th
Sweet Virginia (Feature) with Jon Bernthal, Christopher Abbott, Imogen Poots, Rosemarie DeWitt and Odessa Young wraps up September 17th
If you see any of these productions, including Story of a Girl filming in Vancouver and British Columbia, be sure to let us know by tweeting us (@WhatsFilming) or via our Submit a Location page.