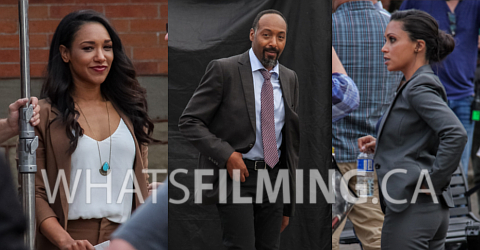 On August 29th, The Flash filmed a scene with Candice Patton as Iris West, Jesse L. Martin as Joe West and Danielle Nicolet as Cecile Horton in New Westminster. Check out some behind the scenes photos below.
Spoiler Warning! As with all set photos, there's always a possibility that a picture or something mentioned in this article could be considered a spoiler.
The scene pictured below took place at Hyack Square in New Westminster and is part of The Flash season 3 episode 5 which is titled "Monster".
Update: Looks like this scene didn't make the final cut. Hopefully it will be included in the DVD/Blu-ray.
It looked like Joe and Cecile were finally getting to spend some quality time together after their mutual love interest was hinted at during last week's episode. The pair sat together on a bench in the square, chatted for a while and were eventually joined by Iris West, who brought everyone's favourite, Big Belly Burger; one of the places you can count on existing regardless of which Earth you're on.
Danielle made her first appearance on The Flash as Cecile Horton during season 1 episode 19 (Who is Harrison Wells?) and again in episode 22 (Rogue Air).
Photos of Candice Patton as Iris West, Jesse L. Martin as Joe West & Danielle Nicolet as Cecile Horton
Head over to Canadagraphs to see several more great pics from this scene.
Earlier in the day The Flash filmed scenes across the street inside the Anvil Centre. This location has seen several productions in the past few months including the Fifty Shades franchise, Supernatural, Prison Break and more.
A few days before, The Flash filmed one of the major scenes featured in the trailer for tonight's episode at/around Vancouver Public Library. The scene was of a massively tall monster attacking a street festival in Central City until The Flash arrives to fight back.
You can check out photos of that scene being filmed and more details about the episode here:
The Flash Season 3 Episode 5 with Grant Gustin Filming in Vancouver (Photos)
Don't miss tonight's episode of The Flash including these scenes with Iris West meeting up with Joe and Cecil at 8pm on The CW in the US and CTV in Canada.