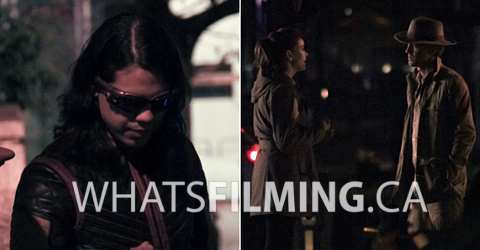 Carlos Valdes (Cisco), Danielle Panabaker (Caitlin Snow), Tom Felton (Julian Albert) and Jessica Camacho were spotted while filming The Flash season 3 episode 13 titled "Attack on Gorilla City" in Vancouver back in December. Check out 21 behind the scenes photos below.
Spoiler Warning! As with all set photos, there's always a possibility that a picture or something mentioned in this article could be considered a spoiler.
The scenes being filmed on December 2nd took place in downtown Vancouver's Oceanic Plaza, Portal Park and in the 1000 block of West Hastings Street. All 3 locations are in close proximity and are frequently featured on The Flash (as well as Supergirl, Arrow and more).
After seeing Cisco's gradual discovery of his Vibe capabilities over the past year, it was great to see him don the full suit; which features many characteristics straight from the comics. In between takes, Carlos was nice enough to talk with fans and sign autographs.
Photos of Carlos Valdes (Cisco) signing autographs in his Vibe suit while filming The Flash season 3 episode 13
Jessica Camacho (Sleepy Hollow), who was recently cast in the role of Gypsy (aka Cindy Reynolds in the comics), was also spotted on set alongside Vibe and Flash. Check out these pictures thanks to @ThemysciraBound:
Savitar and Grodd in some sort of CG fight. Cisco in Vibe suit! @WhatsFilming @yvrshoots @olv #TheFlash #TheFlashSeason3 @aveiestweets pic.twitter.com/64wvzaZsF5

— WonderWoman (@ThemysciraBound) December 3, 2016
Here's a picture of the back of Gypsy's suit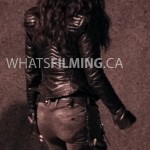 Earlier in the night, Danielle Panabaker (Caitlin Snow) and Tom Felton (Julian Albert / Albert Desmond?) filmed a scene together in Portal Park. The two shared a dialogue under the park's pavilion before locking arms and walking out of the scene. Looks a bit like a #Snowbert scene to me.
Photos of Danielle Panabaker and Tom Felton filming The Flash season 3 episode 13
According to Entertainment Weekly, Executive Producer Andrew Kreisberg announced that The Flash season 3 episode 13 is the first of a two-part storyline centred around Gorilla Grodd. He went on to mention that one of the episodes is set in Gorilla City on Earth 2. This may explain the Indiana Jones-esque attire being worn by Caitlin and Julian in the scene pictured above. It's worth noting that Julian wore the same hat in episode 9 during a flashback to him finding the Philosopher's Stone in the Indus Valley.
What are your predictions for The Flash season 3 episode 13? Let us know in the comment section below!
RELATED: The Flash Season 3 Episode 5 with Grant Gustin Filming in Vancouver (Photos)
The Flash season 3 episode 13 is expected to air sometime in February and the series returns from winter break on Tuesday, January 24th at 8pm on CTV in Canada and The CW in the US.