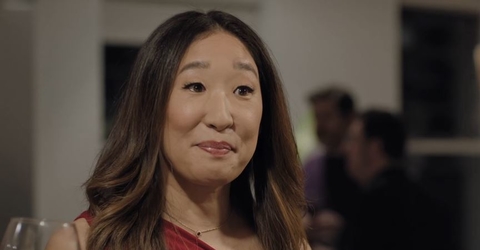 Meditation Park, an indie feature with Grey's Anatomy star Sandra Oh and Hallmark's Christmas in the Air start filming in Vancouver and British Columbia this week.
Meditation Park (Feature)
Meditation Park is one of 3 projects which were awarded funding as part of CBC's Breaking Barriers Film Fund this year. The story was written by Hong Kong-born, Vancouver-raised filmmaker Mina Shum. Unlike most film projects in the area, Meditation Park is actually set in Vancouver.
The story centres around Maria, a Chinese-Canadian woman in her 60s, who has just found out her husband is having an affair. Maria has lived a pretty isolated life, and her English isn't the best, but she's determined not to be defeated by this discovery and ends up becoming a stronger woman in the end.
Maria will be played by Pei Pei Cheng (Crouching Tiger, Hidden Dragon). She's joined by Canadian actresses Jessica Paré (Mad Men) and Sandra Oh (Grey's Anatomy) as well as Tzi Ma (The Man in the High Castle).
Meditation Park will be filming in Vancouver and British Columbia until March 23rd.
Christmas in the Air (aka 12 Days) (TV Movie)
After Hallmark's most successful Christmas season yet, the network is determined to make 2017 even better. Christmas in the Air is one of 32 new movies that will premiere during this year's ambitious lineup across Hallmark Channel and Hallmark Movies & Mysteries.
Robert's life is a whirlwind. He's a single father raising his two young children, and also a successful toy inventor. If that weren't enough, he's given a huge opportunity to have his Christmas toys carried by a superstore. Before he can make that commitment, he first has to get his personal life and business under control. The catch is, he only has 12 days to do it.
Thankfully, Robert meets Lydia, who runs her own business as a professional organizer. Lydia is just what Robert needs to get his business in order, and finally deal with what he's been putting off for a long while. And as it turns out, Robert might be just what Lydia needed as well.
Catherine Bell (Good Witch, JAG) and Eric Close (Without a Trace, Nashville) play Lydia and Robert respectively.They're joined by Ontario-born actor Ken Tremblett who has appeared in several Vancouver-filmed productions including Supernatural and Hallmark's Summer of Dreams.
Christmas in the Air will be filming in Vancouver and British Columbia until March 17th and will premiere as part of Hallmark's Countdown to Christmas 2017 movie series. Update: Christmas in the Air premieres on November 5th at 8pm on the Hallmark Channel in the US.
RELATED: Hallmark's Countdown to Christmas 2016
Also Starting This Week
Menendez (aka The Menendez Brothers) (TV Movie)
Cast: Courtney Love (Sons of Anarchy, Revenge), Myko Olivier (Glee, Castle), Benito Martinez (Million Dollar Baby, How To Get Away With Murder), Nico Tortorella (Younger, Scream 4)
Filming until March 23rd
For more details about Menendez, check out our full article here.
Garage Sale Mystery: Texting a Murder (TV Movie)
Cast: Lori Loughlin (Full House), Johannah Newmarch (When Calls the Heart)
Filming until March 17th
Safe at Home (TV Movie)
Cast: Andrew Walker (Date With Love, A Dream of Christmas), Nikki DeLoach (Awkward, A Dream of Christmas), Lisa Durupt (Murder She Baked Series, A Dream of Christmas)
Filming until March 10th
For a full list of what's filming in Vancouver and British Columbia right now, check out our In Production page.
Wrapping Up This Week
DC's Legends of Tomorrow – Season 2 (TV Series) with Brandon Routh, Caity Lotz, Arthur Darvill, Victor Garber, Franz Drameh, Dominic Purcell, Maisie Richardson-Sellers, Nick Zano, Patrick J. Adams, Matthew MacCaull and Sarah Grey wraps up February 27th
Christmas Solo (TV Movie) wraps up March 5th
If you see any of these productions, including the Meditation Park or Christmas in the Air filming in Vancouver and British Columbia, be sure to let us know by tweeting us (@WhatsFilming) or via our Submit a Location page.