Earlier this week, production started on The Art of Us, a Hallmark original movie based on the popular book of the same name written by Teri Wilson. This is the second Hallmark movie based on one of Teri's books after Unleashing Mr. Darcy was an instant success for the network during their Winterfest series in 2016.
Teri Wilson was kind enough to take the time to answer some questions for us about her experience with Unleashing Mr. Darcy and what we can expect from the movie adaptation of The Art of Us. Check out the full interview below, but first a little back story on the movies.
Unleashing Mr. Darcy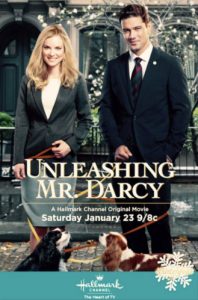 Unleashing Mr. Darcy is a modern day pride and prejudice story centred around a woman named Elizabeth (Cedar Cove star Cindy Busby). After losing her teaching job, Elizabeth decides to show her Cavalier King Charles Spaniel at an upscale dog show in New York. It's there that she meets the show's judge, Donovan Darcy (General Hospital star Ryan Paevey). Although she's put off by his demeanour at first, she eventually discovers that there's a kind soul behind his sharp exterior and the pair begin to form a mutual attraction.
The movie filmed in Vancouver and British Columbia during the fall of 2015 and premiered in January of 2016. Read more about Unleashing Mr. Darcy and check out the trailer HERE.
The Art of Us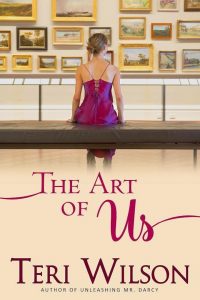 Fans of Unleashing Mr. Darcy will love The Art of Us too. In the interview below, Teri describes The Art of Us as "a modern retelling of My Fair Lady with a gender reversal". The story is centred around Harper Higgins, a history professor and Vincent Van Gogh expert. When an artist unexpectedly pulls out of an art show Harper is putting on, she's forced to turn to an unlikely replacement: her handsome dog walker, Tom Stone. Although Tom is actually a talented painter, it takes some work to ensure they'll be able to convince the crowd that he's the classically trained artist they were expecting to see. Somewhere along the way the pair begin to fall for each other.
Taylor Cole (The Originals, Christmas In Homestead) and Steve Lund (Schitt's Creek) star as Harper and Tom respectively. Like Unleashing Mr. Darcy, this story will also have a cute dog (named Vincent) in the spotlight.
Additional cast we're aware of so far include:
The movie started filming in Maple Ridge on Monday and will continue in the Lower Mainland until April 13th.
Interview with Teri Wilson, author of Unleashing Mr. Darcy & The Art of Us
What's Filming: While Unleashing Mr. Darcy was filming in 2015, you spent some time on set and even made a cameo in the movie. What was your most memorable moment while being on set and how was your experience with the crew/production team?
Teri Wilson: I was on set for two days during the filming of Unleashing Mr. Darcy. The crew/production team were absolutely amazing. During breaks, people would come up and thank me for writing the book and tell me how excited they were to be working on the movie. I've kept in touch with most everyone I got to know on the set, and they are all wonderful people. My most memorable moment was when I was given a director's chair with my name and the movie title on it. I started crying when I saw it. I got to take the placard home with me, and it's now framed and hanging on my living room wall.
WF: Being the first of your stories to be adapted into a movie, can you describe what it was like to see Unleashing Mr. Darcy come to life on screen?
TW: Seeing my book come to life on film was extremely surreal. It was so exciting to be on set, and at the same time it was just so odd to see something that had existed only in my head become a real thing with real people. I still can hardly believe it happened. It's every author's dream come true, and it's even more exciting and fun than you think it's going to be.
WF: If you had to pick one scene from Unleashing Mr. Darcy that best captured your vision, what would it be and why?
TW: I love everything about the movie, even the parts that are slightly different from the book. But if I had to pick one scene as my favorite, I'd probably choose the ballroom scene at Mr. Darcy's mansion. Everything, down to the dresses, are exactly as I described them in the book. And Ryan Paevey's intensity in this scene is spot on. He's exactly as I wrote Mr. Darcy.
WF: A lot of great Vancouver & area locations were featured in Unleashing Mr. Darcy, is there one that stood out to you as a favourite?
TW: Again, my favorite is the mansion. The location for this part of the movie was Copper Stone Mansion in South Langley. Not only was the house gorgeous, but the surrounding grounds are just stunning. There's a scene in the movie in which Elizabeth is talking to Felicity out on the terrace, and the vineyard and sweeping views behind them are so lovely that sometimes I forget to listen to the lines.
WF: The Art of Us is the second movie based on one of your books, what has been your favourite part of the process?
TW: Honestly, we are just getting started, so I can't really say yet what my favorite part has been. I loved everything about the book-to-film journey of Unleashing Mr. Darcy. Every single thing. I was quite touched and overwhelmed by all the support the film received from readers, fans and my writer friends. It made the entire process even more meaningful to me, and I suspect I'll feel the same about The Art of Us.
WF: What inspired you to write The Art of Us and what makes it fitting to be adapted as a movie?
TW: The Art of Us is a modern retelling of My Fair Lady with a gender reversal. The stuffy college professor is the heroine of the story, Dr. Harper Higgins. She's an expert on Vincent Van Gogh and teaches art history. When a famous artist drops out of an art show she's putting together, she tries to pass her ruggedly handsome dog walker off as a classically trained artist. It's a romantic comedy with lots of heart. I think the visual aspects of the art theme will make it a really beautiful film. Of course the adorable dogs and gorgeous scenery will only add to its charm!
WF: Is there a particular part of The Art of Us that you're most excited to see portrayed on the screen?
TW: I'm really looking forward to the big art show at the end of the story. Like Unleashing Mr. Darcy, The Art of Us culminates at a posh event, so I think it will be really fun to see another glamorous, visual scene like that come to life. I'm also especially interested to see the art and paintings that are chosen for the movie.
WF: Will the movie adaptation of The Art of Us have any key differences from your original story?
TW: I'm really not sure. I haven't seen the script yet. Even if I had, the script kind of evolves throughout the filming process and nothing is set in stone until the movie is edited. One of the aspects of the film that I'm really curious about is a dog character from the book named Vincent. Vincent is a Dachshund, and he only has one ear. (He's a rescue dog named after Vincent Van Gogh.) It will be interesting to see if there are any one-eared dog actors out there!
Excited for The Art of Us?
While you're waiting for The Art of Us to premiere, check out Teri's website for more information and links to purchase the novel. There you'll also find details about her full lineup of novels including Unleashing Mr. Darcy and her latest book, Royally Roma, which was just released on March 27th.
Other ways to connect with Teri Wilson!
The Art of Us will continue filming in British Columbia until April 13th.
Update 5/11/2017: Added the filming locations and trailer for the movie.
The Art of Us Filming Locations
Here are some of the locations where The Art of Us was spotted filming:
0 Block Powell Street / 0 Block Alexander Street outside of Hotel Europe / Maple Tree Square (Gastown, Vancouver)
Laity Street and Lougheed Highway (Maple Ridge)
Kanaka Regional Park (Maple Ridge)
Gratia Bakery and Cafe on Dewdney Trunk Road (Maple Ridge)
Check out The Art of Us when it premieres Saturday, May 20th at 9pm on Hallmark Channel.