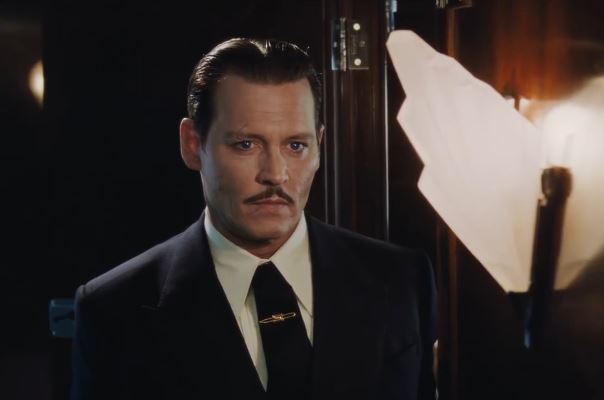 Richard Says Goodbye (Feature)
Pirates of the Caribbean star Johnny Depp is in town for his latest movie called Richard Says Goodbye. The movie was written by Wayne Roberts (Katie Says Goodbye) and is about a college professor who decides to live out the rest of his time on the edge following a diagnosis with a life threatening illness. Roberts also serves as director for the film.
According to Variety.com, Depp will be joined by Zoey Deutch, who portrayed Samantha in the film adaptation of the young adult novel Before I Fall; which also filmed in Vancouver. Johnny is no stranger to filming in Vancouver either. Last year, he was in the city for a brief period of filming for Pirates of the Caribbean: Dead Men Tell No Tales. Earlier in his career he spent a lot of time in Vancouver while filming the TV series 21 Jump Street.
Variety.com also revealed more of the cast including Danny Huston (Wonder Woman), Rosemarie DeWitt (La La Land), Devon Terrell (Barry) and Odessa Young (Looking For Grace).
Production kicked off Tuesday at a couple of locations in downtown Vancouver including The Blackbird Public House on Dunsmuir Street. They were back in the area yesterday filming at The Butcher and Bullock on West Pender Street. Thank you to @drcru for finding and posting the filming notice. Today, the movie is filming at The Bimini Public House on West 4th Avenue; thank you @LammaSam for the info! If you're interested in Richard Says Goodbye filming locations, keep an eye on our Current Filming Locations page where we post info as it comes available.
Thank you @lemon_buzz for breaking the news that Richard Says Goodbye would be coming to Vancouver to film.
Richard Says Goodbye is currently scheduled to continue filming in Vancouver and British Columbia until August 25th and it's expected to be released in 2018.
The Exorcist – Season 2 (TV Series)
After filming its first season in Chicago, The Exorcist season 2 has relocated to Vancouver and area. The series is based on the 1973 classic horror film of the same name by William Peter Blatty.
During their Comic Con panel last weekend, the show runners revealed that The Exorcist Season 2 will be set in the Pacific Northwest, near Seattle specifically. This explains the show's need for a change of scenery; after all, it seems there's no better place than Vancouver to serve as a stand-in for the Seattle area.
In addition to a new setting for The Exorcist season 2, there will be a few new faces as well. Deadpool star Brianna Hildebrand, John Cho (Star Trek Into Darkness) and Zuleikha Robinson (Hidalgo) all joined the cast over the last few weeks. Alfonso Herrera, Kurt Egyiawan and Ben Daniels are expected to reprise their roles as Father Tomas Ortega, Father Bennett and Father Marcus Keane respectively.
The Exorcist season 2 is scheduled to continue filming in Vancouver and British Columbia until November 14th and premieres Friday, September 29th on Fox in the US and CTV in Canada.
Miss Christmas (TV Movie)
In Washington, DC, Holly Kuhn is known as 'Miss Christmas'. She's in charge of finding the perfect evergreen to become The National Tree for a Christmas festival held in the city. During this year's pursuit, Holly finds herself drawn to a small town after receiving a letter from a boy claiming that he knows just where to find the tree she's looking for.
When she arrives, Holly discovers there's only one thing standing between her and the perfect tree: Sam, the boy's uncle. Sam owns the land where the tree is standing. Despite Holly's best intentions, the tree has sentimental value to Sam and he's reluctant to let it go. Eventually, Holly begins to fall in love with Sam, and together they learn that this tree is just what they need to bring magic to the holidays.
During Hallmark's Summer TCA event, it was revealed that Holly will be played by Brooke D'Orsay (Royal Pains, Two and a Half Men) and Sam will be played by Marc Blucas (Underground).
Miss Christmas will continue filming in British Columbia until August 11th and will premiere during Hallmark's annual Countdown to Christmas. Update: Miss Christmas premieres on November 12th at 8pm on the Hallmark Channel in the US.
Also Starting This Week
The Crossing – Season 1 (TV Series)
Cast: Steve Zahn, Sandrine Holt, Rob Campbell, Jay Karnes, Simone Kessell, Grant Harvey, Kelley Missal, Maddie Phillips, Marcuis W. Harris
Filming until November 24th. For more details about The Crossing, check out our 2017 TV Pilot Season Roundup.
The Good Doctor – Season 1 (TV Series)
Cast: Freddie Highmore, Nicholas Gonzalez, Chuku Modu, Hill Harper, Irene Keng, Richard Schiff, Beau Garrett
Filming until December 15th. For more details about The Good Doctor, check out our 2017 TV Pilot Season Roundup.
The Arrangement – Season 2 (TV Series)
Cast: Christine Evangelista, Josh Henderson, Michael Vartan
Filming until November 3rd
Falling For Vermont (TV Movie)
Cast: Benjamin Ayres, Larissa Albuquerque
Filming until August 12th
Peared With a Kiss (TV Movie)
Cast: Ryan Paevey, Lini Evans, Aaron Craven, Barry Levy, Lucia Frangione
Filming until August 12th
Four Christmases and a Wedding (TV Movie)
Cast: Arielle Kebbel, Markie Post, Corey Sevier, Madison Smith
Filming until August 14th
For a full list of what's filming in Vancouver and British Columbia right now, check out our In Production page.
Wrapping Up This Week
A Bramble House Christmas (TV Movie) with Autumn Reeser and David Haydn-Jones wraps up July 28th
Gourmet Detective 4: Eat, Drink and Be Buried (TV Movie) with Dylan Neal, Brooke Burns, Brittney Wilson, David Paetkau, Ali Skovbye, Gelsea Mae and Bruce Boxleitner wrapped up July 25th
Travelers – Season 2 (TV Series) with Eric McCormack, Mackenzie Porter, Patrick Gilmore, Jared Paul Abrahamson, Nesta Marlee Cooper, Reilly Dolman, Enrico Colantoni, Stephen Lobo and Amanda Tapping wraps up July 28th
Signed, Sealed, Delivered 8 & 9 (TV Movie) with Eric Mabius, Kristin Booth, Crystal Lowe, Geoff Gustafson and Emilie Ullerup wraps up July 28th
If you see any of these productions, including Richard Says Goodbye or The Exorcist season 2 filming in Vancouver and British Columbia, be sure to let us know by tweeting us (@WhatsFilming) or via our Submit a Location page.