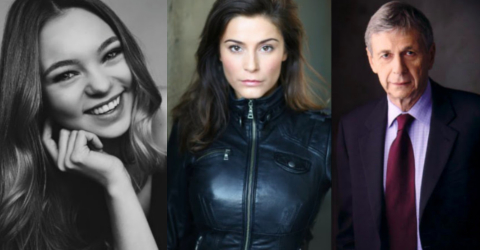 Residue, an indie feature starring Taylor Hickson (Deadpool), William B. Davis (The X-Files, Continuum), Elysia Rotaru (Arrow), James Clayton (Fringe), and Matt Frewer (Orphan Black, Watchmen) began filming in Vancouver earlier this week.
Described as a neo-noir horror, Residue revolves around Luke Harding, a private investigator played by James Clayton. Luke unknowingly puts his daughter, his lover and his own life in danger after coming into contact with a book that has supernatural powers. The book belongs to Mr. Fairweather (played by Matt Frewer), a well known crime lord.
The book's evil powers are highly sought after by Fairweather's rival, Mr. Lamont (played by William B. Davis). In an effort to procure the book and its powers for his own purposes, Mr. Lamont and his 2 henchmen begin an expedition to hunt down Luke. Mr. Lamont will be played by William B. Davis, the actor behind the infamous Smoking Man character on The X-Files.
Luke's lover, Monica, will be played by Vancouver's own Elysia Rotau. Fans of the filmed in Vancouver CW TV series Arrow will instantly recognize her as the focal point of this season's island flashback scenes. Taylor Hickson will play Luke's daughter, Angelina. Taylor recently appeared in Deadpool – the filmed in Vancouver blockbuster starring Ryan Reynolds. Taylor is also signed on for a leading role in the upcoming TV series Aftermath which will film in Vancouver starting in May. Other notable cast includes Jason Burkart, who is known for his role as Little John on Once Upon a Time and Costas Mandylor who is known for the Saw franchise.
Rusty Nixon, who wrote the story for Residue is directing the film. In addition to starring in the movie, James Clayton and Blaine Anderson will be producing. James, Blaine and Rusty founded the independent Vancouver based film company, Motorcycle Boy Productions, that has partnered with IndustryWorks Studios to bring Residue to life.
See also:
Movies and TV Shows Currently Filming in Vancouver
Residue is the first film in a three-part series; the second instalment is set to begin production this fall. Residue is scheduled to continue filming in Vancouver and area until April 20th and will be released in 2017.