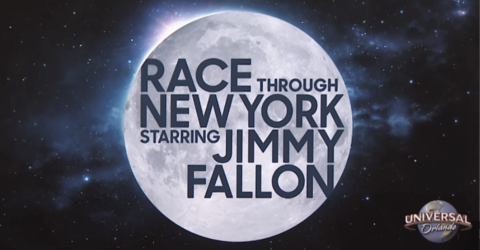 This week Race Through New York Starring Jimmy Fallon, Ms Matched and The Plateau start filming in Vancouver and British Columbia.
Race Through New York Starring Jimmy Fallon aka Project 727 (TV Presentation)
Race Through New York Starring Jimmy Fallon is an upcoming theme park ride set to debut at Universal Orlando Resort in 2017. The 3D ride is based on one of the most popular segments from The Tonight Show with Jimmy Fallon. Contestants will experience a visit to The Tonight Show studio and participate in an exciting "Race Through New York". Over the next two weeks, production will take place in Vancouver for some of the visual elements that will appear during the ride.
According to UniversalOrlando.com, ride-goers will "rocket through the streets-and skies-of New York City, from the deepest subway tunnels to the tallest skyscrapers, encountering colorful characters, famous landmarks and anything else that comes to Jimmy's mind".
Although it was uncertain if Jimmy would be in Vancouver during production, he posted the below behind the scenes photo on April 18th and made an appearance at Paul McCartney's concert at Rogers Arena on April 20th.
Filming @UniversalORL's new attraction Race Through New York!! Crazy fun. See it Spring 2017! pic.twitter.com/kR0aaZgsGb

— jimmy fallon (@jimmyfallon) April 19, 2016
Jimmy's portion of the project started filming last fall, check out the picture he posted to Instagram:
Check out this video of Jimmy Fallon announcing the ride and giving some insight into what to expect.

Race Through New York Starring Jimmy Fallon will be in production until April 22nd.
Ms Matched (TV Movie)
Ms Matched is a romantic comedy from Hallmark about an unlikely couple who meet while attending a Wedding Expo. One is a popular Wedding Planner who likes to throw extravagant events, the other is a Financial Advisor who helps couples save money while planning their wedding. Despite their ironic differences, the two discover that they're a perfect match. Notable cast includes: Alexa PenaVega (Nashville), David Lloydy (The World in Hand), Chiara Zanni (X-Men 2, Good Luck Chuck) and Paula Giroday (Sucker Punch, The True Heroines). Ms Matched will be filming in Vancouver and British Columbia until April 29th.
The Plateau (Feature)
The Plateau is a horror-thriller indie feature written by Charles G. Dickson and directed by Tim Brown. The story follows two brothers who go on a routine hunting trip but things take a turn for the worse as they become the ones who are being hunted. Notable cast includes: Dan Payne (Residue, All Yours), Robin Dunne (Sanctuary), and Daniel Cudmore (X-Men Series, Twilight Series). Production began today at Myra Canyon Adventure Park just outside of Kelowna. The Plateau will be filming in and around the Kelowna area until April 29th.
For a full list of everything that's filming in Vancouver and British Columbia right now, check out our In Production page.
Wrapping Up This Week
Miranda's Rights (TV Pilot) with Rebecca Breeds, Monique Coleman, Noel Fisher, Gail O'Grady, Parker Sawyers, Jamie Chung, Sarah-Jane Redmond, and Madison Smith wraps up April 13th
Pirates of the Caribbean: Dead Men Tell No Tales Additional Photography (Feature) with Johnny Depp, Kaya Scodelario and Paul McCartney wraps up April 13th
Undergrad Nightmare (TV Movie) with Greer Grammer, Chloe Babcook, Steve Bacic, Erin Aubrey, Emilija Baranac, Leah Cairns, Rachelle Gillis, Ross Linton, Panta Mosleh, Steve Richmond, Samantha Schimmer, Keenan Tracey wraps up April 15th
The Flash – Season 2 (TV Series) with Grant Gustin, Candice Patton, Danielle Panabaker, Carlos Valdes, Tom Cavanagh, Jesse L. Martin, Shantel VanSanten, Teddy Sears wraps up April 17th
If you see any of these productions, including Race Through New York Starring Jimmy Fallon filming in Vancouver and British Columbia, be sure to let us know by tweeting us (@WhatsFilming) or via our Submit a Location page.