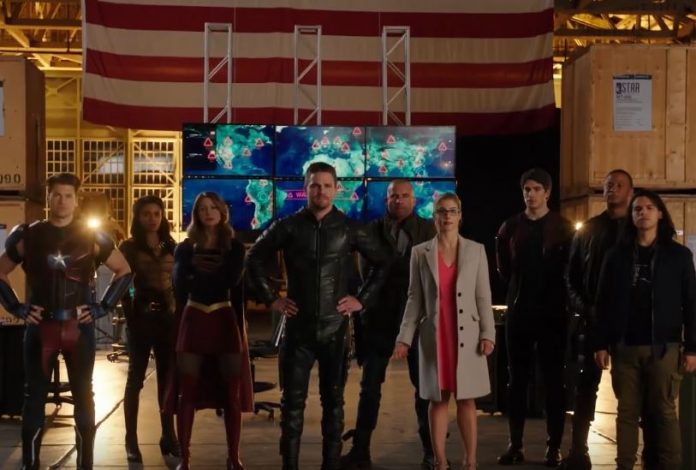 2017 Arrowverse Crossover
During CW'S Upfront presentation last week, the network announced its plans for another mega Arrowverse crossover episode between the 4 Vancouver-filmed DCTV series: Arrow, The Flash, Legends of Tomorrow and Supergirl. The announcement wasn't a surprise given that this season's Arrowverse crossover event landed the network its most-watched week over the past 6 years. According to Deadline.com, the network revealed that this season's Arrowverse crossover would land in November and will be another 4 night event. It was previously announced that Supergirl's episode would be more engrained in the event, unlike this year's version which saw merely a minute cast crossover at the end.
RELATED: Comic Book Shows Filmed in Vancouver – Your Favourites
Supernatural Meets Scooby-Doo
If you asked me before which one of the Vancouver-filmed CW series would get a Scooby-Doo animated episode, I would have guessed Riverdale. But the Scooby Gang's experience with 'supernatural' creatures makes it a good fit too. The animated episode which was announced during this week's CW Upfronts presentation will appear during the upcoming 13th season of Supernatural. Of course, there will be an appearance of the Great Dane himself, alongside the regular Supernatural cast who will be playing animated versions of themselves.
I was interested to see what people thought about this idea; here's what Twitter had to say:
Quick Poll: What do you think of the animated #Supernatural meets #ScoobyDoo episode that was announced by The CW? #SPN

— What's Filming (@WhatsFilming) May 20, 2017
Looks like the majority of people are exciting to see the episode. Let us know in the comments below what your thoughts are!
Fall TV Schedule
The networks were abuzz announcing their plans for the upcoming 2017-2018 TV season. Here's a roundup of what's new, what's on the move, what's staying put and what's being held for midseason.
New Series
On the Move
Staying Put
Midseason Premieres
War for the Planet of the Apes – Final Trailer
Twentieth Century Fox released the final trailer for War for the Planet of the Apes starring Andy Serkis, Woody Harrelson, Steve Zahn. The movie filmed in Vancouver and British Columbia from October 14th, 2015 to March 24th, 2016 including some extensive scenes at an empty lot off Triangle Road in Richmond. War for the Planet of the Apes premieres in theatres on July 14th. Check out the final trailer here:
Other News
RELATED: Nat Wolff Filming Netflix Movie Death Note in Vancouver (Photos)
Let us know in the comments: Are you looking forward to this year's Arrowverse Crossover?