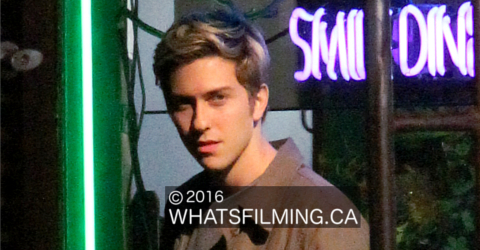 Earlier this week, Paper Towns star Nat Wolff was spotted filming scenes for Death Note, the upcoming Netflix American adaptation of the Japanese Manga in downtown Vancouver. Check out some photos below.
Nat Wolff plays the lead role of "Light Turner", a young man who has come into possession of a book that has the power to kill anyone, just by writing their name in it. Although Light is determined to use the books powers to help punish criminals, he ends up being hunted by a world renowned detective who goes by the name of "L".
Alongside Nat Wolff is Margaret Qualley (The Leftovers) who plays the female lead, Mia. Straight Outta Compton's star Keith Stanfield will portray L.
The scenes we saw filming earlier this week took place at Smile's Diner, a popular filming location along downtown Vancouver's West Pender Street. Nat Wolff and an actress stood just outside the entrance to the diner and had dialogue before later sharing a cigarette. Unfortunately we couldn't stay long enough to identify the actress, but it was likely Margaret Qualley.
Photos of Nat Wolff as Light Turner Filming Death Note
As a bonus, here's a couple of additional photos taken while Death Note was filming at the Vancouver Art Gallery on July 6th. The movie filmed a Seattle Police press conference on the north plaza along with some interior scenes. Shea Whigham (Boardwalk Empire) was on set and made a speech to the citizens of "Seattle" who crowded the bottom of the stairs. Later, a character who appeared to be L also made an appearance.

See also:
Death Note Movie with Nat Wolff Starts Filming in Vancouver
Death Note is scheduled to continue filming in Vancouver and area until August 30th and is expected to be released in 2017 on Netflix. If you spot Nat Wolff or the rest of the cast of Death Note filming, be sure to let us know by tweeting us (@WhatsFilming) or via our Submit a Location page.