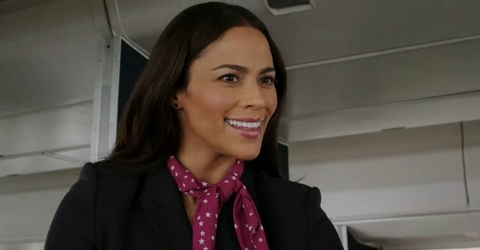 ABC's upcoming TV series Somewhere Between with Paula Patton starts filming in Vancouver and British Columbia this week.
Somewhere Between – Season 1 (TV Series)
After receiving a 10-episode straight-to-series order back in December, season 1 of ABC's new drama series Somewhere Between starts filming in Vancouver and area today. The series is centred around a famous news producer named Laura Price, played by Paula Patton (Baggage Claim, Mission: Impossible – Ghost Protocol).
Although it may seem crazy, Laura is convinced that her daughter Serena is going to be murdered. Although Laura doesn't know who the killer will be or why her daughter is being targeted, she does know when, where and how it will happen. Armed with that information, she desperately dedicates her time to keeping her daughter safe.
Paula Patton will be joined by Toronto-born actor JR Bourne (Teen Wolf) who plays Laura's husband and state district attorney Tom Price. Rounding out the cast that has been announced so far is Vancouver's own Aaron Craven (Ties That Bind, Gracepoint) and Rebecca Staab (Port Charles, The Irresistible Blueberry Farm) who play Haskell and Colleen Dekizer respectively.
Somewhere Between was written by Stephen Tolkin, known for writing Brother's & Sisters which aired on ABC from 2006 to 2011. Vancouver's Thunderbird Studios serves as the production company for the series. Thunderbird's other scripted series credits include The Man in the High Castle, Continuum and Kim's Convenience.
In addition to Somewhere Between and Once Upon a Time, which is currently filming, ABC also has four TV pilots which start filming in Vancouver this month. Check out a full roundup of those pilots and more in our 2017 TV Pilot Season in Vancouver Roundup.
Somewhere Between season 1 will be filming in Vancouver and British Columbia until June 15th and is expected to premiere this summer.
Also Starting This Week
Project Mc2 – Season 3 (TV Series)
Filming until May 1st
Cast: Danica McKellar (My Christmas Dream)
Fun Fact: Danica just wrapped up filming a Hallmark TV movie called Campfire Kiss in the Vancouver area in January.
Tiny Christmas (Nickelodeon TV Movie)
Filming until March 31st
Deadly Attraction (Lifetime TV Movie)
Filming until March 25th
For a full list of what's filming in Vancouver and British Columbia right now, check out our In Production page.
Wrapping Up This Week
Christmas Solo (TV Movie) wraps up March 6th
Hailey Dean Mystery: Deadly Estate (aka Hailey Dean Mysteries 2) (Hallmark TV Movie) with Kellie Martin, Cindy Busby, Viv Leacock, Michelle Harrison, Giacomo Baessato and Matthew Maccaull wraps up March 7th
Igniting Old Flames (TV Movie) wraps up March 8th
Like Cats and Dogs (Hallmark TV Movie) with Cassidy Gifford, Wyatt Nash, Drew Tanner, Jacky Lai and Nelson Wong wraps up March 10th
Safe at Home (Hallmark TV Movie) with Andrew Walker, Nikki DeLoach and Lisa Durupt wraps up March 10th
If you see any of these productions, including the Somewhere Between filming in Vancouver and British Columbia, be sure to let us know by tweeting us (@WhatsFilming) or via our Submit a Location page.